Huelga evitada, acuerdo entre CCSD y profesores
Los maestros y funcionarios del Distrito Escolar del Condado de Clark llegaron a un acuerdo tentativo sobre los términos del contrato, evitando una posible huelga programada para el 10 de septiembre.
El acuerdo se anunció el miércoles por la noche durante una conferencia de prensa en la sede de CCSD, declarando que se cumplirán todas las solicitudes y demandas de los maestros, incluido un aumento para los maestros que completaron el desarrollo profesional.
"El acuerdo … creo que es justo para nuestros educadores … que tienen el mayor impacto en la vida de nuestros hijos", dijo el superintendente Jesús Jara.
El plan pagará el Movimiento de Progreso de la Columna, el principal punto de discusión para los maestros, así como el aumento salarial del 3%, el incremento escalonado del 2% y la contribución adicional del 4% al seguro de salud. El Movimiento de Progreso de la Columna otorgaría un aumento de $ 5,300 a los maestros por completar los cursos.
"Creo que [Jara] necesita honrar el trabajo que han hecho los maestros y respetar a nuestra comunidad, y no creo que haya hecho eso en los últimos seis meses", dijo la maestra de Spring Valley, Heather Allen.
Cuando se le preguntó de dónde provenían los fondos y el cambio repentino de opinión, Jara respondió que los ingresos del CCSD habían "tenido una tendencia positiva". La propuesta de $ 22.8 millones jugaría en el Plan de Crecimiento Profesional, que entró en vigencia por un contrato de tres años eso prometió a los maestros un aumento salarial por obtener un título de maestría o completar capacitación educativa adicional.
"Creo una cosa a la vez", dijo el profesor de Spring Valley Marc Hyles. "Tenemos que financiar nuestras escuelas. Tenemos que tener lo que se necesita para proporcionar una educación de calidad para nuestros estudiantes. … Esa debería ser nuestra prioridad ".
El plan compensará a 2.500 maestros, de los 18.800 maestros que trabajan en CCSD. Hay 320,000 estudiantes en CCSD, todos los cuales habrían sido afectados por la huelga amenazada.
"Estoy apoyando … porque a nuestros maestros se les debe pagar", dijo la junior Keianna Davis. "No es justo que [los profesores] hayan pasado tanto tiempo … sin una bonificación como se les prometió. Estoy aquí para aprender, y si no voy a tener a nadie que me enseñe lo que necesito aprender, ¿qué sentido tiene estar aquí? "
El acuerdo se produce después de días de protestas de maestros y estudiantes en Spring Valley, donde los maestros se protestaron en el estacionamiento hasta que comenzaron sus horas de contrato. Los estudiantes también estaban preparando una huelga programada para el 5 de septiembre.
"Estoy agradecido de que ambas partes hayan llegado a un acuerdo", dijo el gobernador de Nevada Steve Sisolak en la conferencia de prensa. "Sigo teniendo esperanza porque, en todo este estado, veo maestros comprometidos con todos sus estudiantes".
Isabel Hillers y Cody Johnson contribuyeron a este artículo.
Leave a Comment
About the Writer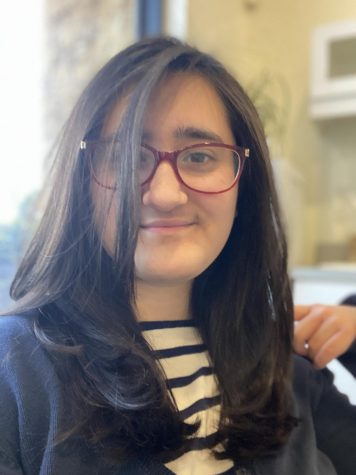 Hana Helfand, Editor-in-Chief
Hana is the Editor-in-Chief for the Grizzly Growler, and this is her fourth year working on staff. She enjoys spreading information through news features and the occasional column piece. She always has an AP stylebook on hand, and she's won numerous awards for stories she's written through the years. She aims to write professionally after she graduates, and she enjoys when people participate and engage with the paper!