Unfair advantage should eliminate Bishop Gorman from D4A competition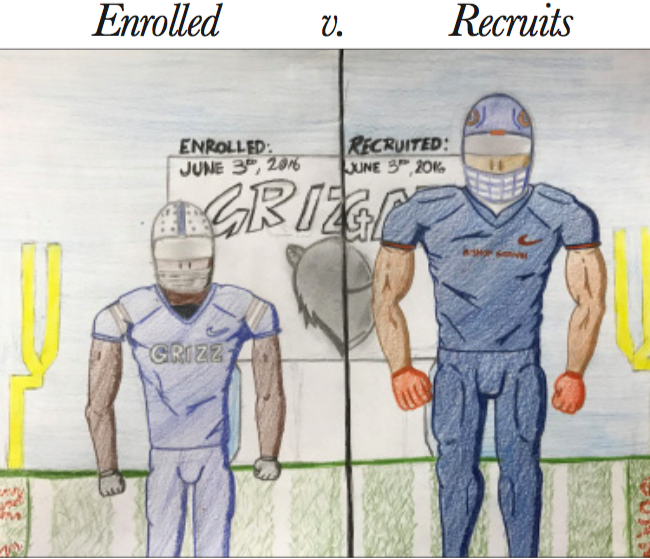 For the first time in four years, Spring Valley High School athletics are competing in the top division in Nevada, now known as D4A. In this higher division, the Grizzlies will take on many elite teams including powerhouse Bishop Gorman, known for dominating against Nevada and high schools teams around the nation. Being allowed to recruit elite athletes, however, should eliminate Gorman from competing against public schools who are limited by public school rules.
In Nevada, public schools are not allowed to recruit from outside of their zone. Gorman, however, plays by a different set of rules. Gorman teams are allowed to recruit athletes from different states and give scholarships to athletes attending their school.
Have you heard of DeMarco Murray, Shabazz Muhammad, or Ronnie Stanley? While you may recognize these names from ESPN, these athletes are all former Gorman recruits who helped the team to success before going pro. The athletes they get, help them win regional and state championships against schools who do not have the same recruiting ability.
Bishop Gorman should not be allowed to com- pete in the same division as others schools, which are required to follow different rules in terms of obtaining players.
"It's unfair that we only get athletes from where they live to compete and they get athletes from anywhere to compete," said Athletic Administrator Gregory Stack. " Our athletes work extremely hard to win, but when faced with an entire team with elite athletes from different areas it's hard to do."
If non private high schools are caught recruiting athletes from other areas, the school can face penalties and be forced to forfeit games. Gorman, however, does not face the same con- sequences, and is known for these practices.
The school district has many policies for public schools to ensure they are not recruiting. If an athlete switches public schools they must sit out 180 school days (one school year) until they can compete for their new school at the varsity level. If an athlete switches to a private school such as Bishop Gorman, however, they can play right away.
Bishop Gorman also is allowed to give out scholarships to athletes. These elite athletes have overall made Gorman the school to beat in every sport.
In football Bishop Gorman is nationally ranked as number 1 in the Excellent 25 football rankings presented by the National Guard. In Nevada, Bishop Gorman has won 7 straight state titles without losing to a Las Vegas school since the 2008 state playoffs against Palo Verde High School.
Gorman also holds the record for most consecutive state titles won in Nevada. In 2009, Gorman also won state titles in Basketball and Baseball. Gorman is one of the first schools in Las Vegas to win state titles in three of the major sports each season.
While Spring Valley teams are excited for the new competition, having to beat a team that plays by different rules in order to win a regional or state title is unreasonable.
"Competition is great. We are not a school that turns down competition but at the end of the day, Gorman has nationally ranked teams that recruit," said varsity baseball player Humberto Maldonado.
In order for Gorman to participate in D4A they should be required to follow the same rules as the public schools they are competing against. Until then, Spring Valley will continue to fight to win.
"This is a problem we have to face now," said wrestling coach Fred Meyer. "It's going to be tough but I like the competition."
Leave a Comment