Theater Awakens with its First Production of "Legend of Sleepy Hollow"
With the recent addition of Theater I and technical theater classes, this year is sure to be interesting and lively as it gets closer to their first production of  "Legend of Sleepy Hollow." The last theater production was in 2009 with the "Complete Works of Shakespeare," so it's obvious that students can't wait to be a part of the revival of this top-notch program in some way as it helps them build confidence, meet friends and be in a safe environment.
"Theater helps you get out your feelings and emotions that are too hard to say by yourself," said sophomore Dylan Santana. "It makes you feel confident with who you are."
The most obvious but true reason theater will be such a good program for the school is that it allows students to be themselves and become more confident. They are able to build up their self-esteem and truly shine. Theater also helps students be able to speak up in front of others and also improves their social skills.
The direction of this new program will be under the watchful eye of the very young and equally passionate, Mr. Anthony Coffield. A true talent, Coffield already has a lot of experience working in live theater and large productions outside of the school district. He has been a production manager and has even worked with celebrities. The students admire him, and many onlookers can expect to see very entertaining and inspiring things to come from him.
"Mr. Coffield is so nice. He is absolutely hilarious and is so young," said junior Armani Rushin. "He always says 'drama is all about a positive environment.'"
One of the most beneficial elements of this new program is the safe and comfortable place it has created for the students. It lets students go and be happy, find friends and discover themselves. They feel able to come out of their shell and be themselves around other people who respect and encourage them.
"People should really come to see the plays this year because they'll see how much hard work is put into them," said sophomore Gentry Brown. "It's also just really fun and is just like a real, professional production."
The first play scheduled will be "Legend of Sleepy Hollow" adapted by Vera Morris set to run November 13 and 14. Auditions were held recently, and it's sure to be a memorable production because of the students involved and director's passion. Be sure to buy tickets at only $5 when available!
Leave a Comment
About the Contributor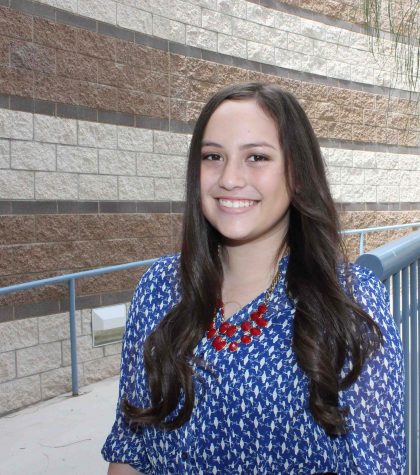 Hannah Tran, Staff Writer
"If I could be anywhere, I'd be swimming with whales!" said Hannah Tran, second year staff writer. Some words to describe Hannah would have to be: funny, beyond sweet, and a little awkward sometimes. She has a passion for student council, being the sophomore president, and volunteers at hospitals on her free time. She loves 80's songs and movies, and she's determined to meet James Franco just because he's gorgeous. And according to her, she wants to save her favorite animal, whales because they're adorable and cute.

Her worst subject in school is math, and her favorite one is journalism which is why she chose it again for her sophomore year. Honestly, she's a great person due to her amazing personality and hilarious yet awkward remarks, and she's a great writer. When she graduates high school, her dream college is Columbia University in New York, and she has a unique goal of marrying a person from India sometime in her future…