New Student Council Officers Elected for the 2014-2015 School Year
Annual student council elections have been closed for voting for the 2014-2015 school year.  The winners are full of  bright ideas, new views  and positive changes. The votes have been counted, and the results are here. For the student body, Lindsay Richey will serve as student body president, Kennedy Childress will be the vice president and Hannah Leavitt will be secretary. Jelena Gotovac will serve as 2015 senior class president and Deanna Page will be 2015 senior class vice president.  For the junior class, Whitney Robison will serve as president and Paige Jacobson will be vice president. For the sophomores, Blake Pride-Zorn will be the 2017 President and Christopher Zimmerman will serve as 2017 Vice President.
"I know it's going to be hard to manage Model United Nations and being student body president, but I am willing to put my best effort into it and I know that I can accomplish anything if I manage my duties and work very hard," said Lindsay Richey, an M.U.N. member who will be the student body president.
It  all started as the candidates  prepared to campaign by laying down their ideas and making advertisements such as posters and flyers. Voting began on Thursday and ended on Monday for representatives and seniors were able to vote for prom theme, class song and the 2018 class house name.
The duty of student government is to better the school by creating and carrying out their ideas. They are the leaders of student council and they set good examples for the general public of Spring Valley. Positions that are offered include student body positions and class representative positions.
Having a position in the student government is a serious duty to take on. To even run, a student must care about Spring Valley and its future and be willing to devote a lot of time into their position. Many students who are involved in other activities find it hard to manage all of the work, but with hard work and dedication, it is possible to achieve success in all of your duties.
"I am so excited for the elections, because I think that this is a great opportunity for me to make changes around Spring Valley and make it a better school for everyone," said Alex Fernandez, who ran for junior class president.
Not only are elected positions going to be offered this year, but also appointed positions. These appointed positions will be positions such as lunch DJ, spirit leader, advertisement leader, etc. To attain these positions, student will not need to campaign, but instead they will go through an interview process with the elected student body. However to earn any position in the student government, a student must either already be apart of the student council or join the student council. To become a student council member, students will have to sign up for the class through a sign-up process over the internet and write about why they want that class, how they can better the school, etc.
If you would like to join the 2014-2015 student council, please attend one of the interest meetings next week, Tuesday, Wednesday or Thursday at 1:25 in room 503.
Leave a Comment
About the Contributor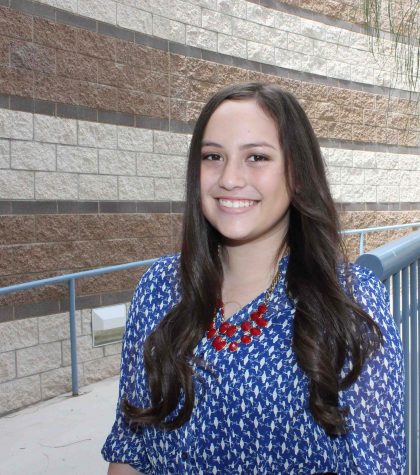 Hannah Tran, Staff Writer
"If I could be anywhere, I'd be swimming with whales!" said Hannah Tran, second year staff writer. Some words to describe Hannah would have to be: funny, beyond sweet, and a little awkward sometimes. She has a passion for student council, being the sophomore president, and volunteers at hospitals on her free time. She loves 80's songs and movies, and she's determined to meet James Franco just because he's gorgeous. And according to her, she wants to save her favorite animal, whales because they're adorable and cute.

Her worst subject in school is math, and her favorite one is journalism which is why she chose it again for her sophomore year. Honestly, she's a great person due to her amazing personality and hilarious yet awkward remarks, and she's a great writer. When she graduates high school, her dream college is Columbia University in New York, and she has a unique goal of marrying a person from India sometime in her future…