A Quarantine Halloween
It was supposed to be the best Halloween this year –– a Saturday for spooks, decorations and candy. Daylight savings ends Nov. 1, which means an extra hour for the paranormal activity. This Halloween sought to be the best of the best.
Like most people in March, I thought the pandemic was going to be over by the summer. It's just a two-week lockdown, and we're going back to work, right? Then summer rolled around, and I thought: Just give it until September. But September came, and nothing changed. Halloween? Maybe? No?
Boo-hoo. Literally.
As Halloween is right around the corner, the sacred idea of trick-or-treating diminishes as the fear of corona rises. Halloween's ruined because the "spirit" is gone, right?
It looks like people have forgotten about the other components of Halloween that don't revolve around knocking on random peoples' doors and threatening them for candy, lest they want a  curse to befall their household. 
Halloween still exists, and all you need is creativity. There's stuff you can do to lift your spirits up from the grave. Carve pumpkins, or create a fa-boo-lous playlist. Why not check out the Growler's Halloween-themed playlist as well? Bake someone in your house a spooky treat that they'll love at first bite, or have a bake-off with that'll end with howls of delight. There are many different ideas you can do that will keep you happy, safe and in the spirit.
If you still feel like trick-or-treating or being social, the CDC released guidelines on staying safe during the festivities. For example, if you choose to host a party, maintain a limited number of guests, and keep a distance from them. Keep in mind the location, duration, health of the guests and activities during the gathering. Also, a costume mask most likely isn't adequate enough to keep you and others safe. If you fear it ruins your outfit, wear it underneath the costume. Your aesthetic should not override someone's safety.
But never forget –– we're all doing this together. Make sure you reach out to friends and others. Value the risks and benefits before doing certain things, and it takes all of us to work toward the end of this. Don't let real life horrors ruin your Halloween. 
Leave a Comment
About the Writer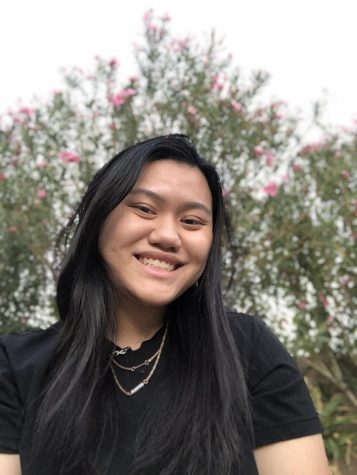 Jessica Bui, Infographic Editor
Hey friends! My name is Jessica Bui, and I'm the current Infographic Editor for the Grizzly Growler. This is my fourth year writing for the paper and being a part of the Growler staff. You can also find my writing in the news, opinion and entertainment sections of the website and paper, but I do stuff around campus like Key Club and Hope Squad, for some variety.

Often times you'll find me posting on the Instagram @thegrizzlygrowlersv!

Fun fact: I designed the logo you're seeing on the top of the screen!