Reconnecting with the Environment Through Virtual Campus Clean Ups
The switch to online school has formed a divide between students and the environment. Even despite the virtual setting, Spring Valley's environmental club has continued to work through these issues to encourage cleaner surroundings.
The club, dedicated to raising awareness about environmental issues, does so through hosting quarterly campus clean-ups. Normally, students would dedicate after school hours to picking up trash on the school grounds, in hopes of creating a healthy appearance for the learning atmosphere. Due to the transition of going entirely online, however, the club has since revised the clean-ups to take place within the members' own neighborhoods, at home. 
"While we still value campus and its huge impact on our lives, we realized that our own communities should also be protected when considering a global aspect," Environmental club president Noah Dee said. 
Although on-campus clean-ups largely encouraged students to work together while improving the environment more directly, independent clean-ups in the students' own communities still carry the foundation that the club abides by.
"Students around campus are surprised to find that we are cleaning up campus, not as a punishment, but because we want our school and planet to be beautiful," advisor Felicia Bonanno said. "However, neighborhood clean-ups allow students the flexibility to clean-up when they want and to make a difference in their specific community."
During a distanced clean-up, students can walk around their neighborhoods, community parks or other locally safe areas to pick up trash. Each student is required to abide by current CDC guidelines (wearing a mask and standing six feet apart) and submit photos of themselves actively cleaning to the advisor. Though the process is simple, these small efforts inspire change in the environment inside and outside our homes.
"We don't have janitors in our neighborhoods," senior club officer Ivana Karastoeva said. "I have noticed that there is a lot of trash in my neighborhood, and I feel that these clean-ups really help the atmosphere and environment around my house."
According to Dee, the environmental club generally helps contribute to the community in times of conflict. Earlier this year, the club hosted a school-wide fundraiser in support for the Australian wildfires. The matter successfully garnered student attention, as over $100 were donated. In regards to the issues that the current pandemic has brought, members hope to encourage union within their communities while staying safe and healthy.
"It is our moral duty to protect our environment and uphold our standards of caring citizens," Dee said. 
The recent Covid outbreaks and changes in many everyday activities have set stress levels for both students and staff at an all time high. Even from a virtual standpoint, organized events, such as the neighborhood clean-ups, aim to bring relief to these problems.
"I think people get really caught up in their own issues and getting outside and helping the environment is a great way to be healthy and fulfilled," senior member Cami Bechtel said. 
Assisting the environment sets a good example toward fresh lifestyles. According to Bonanno, caring for the community now shows that the current generation thinks sustainably and globally. Continuing clean-ups even through distance sends the message that individual action can make a big difference. 
"I aspire for our newer members to be conscious of environmental issues, better caretakers of our communities, and to aid in making Spring Valley a model high school for environmental awareness," sophomore club officer Andy Hang adds.
The transition to online school has caused many clubs to face challenges in terms of keeping themselves active. Environmental club was no exception, leading them to come up with creative solutions to fix member retention and engagement. 
"We have had difficulty adjusting to the online format and keeping new members in the club," club Vice President Christian Chaves said. "We found a way to fix it by making an instagram (@svhs.envclub) that we post updates on." 
The club openly accepts any student to become a member. Their next clean-up will be hosted on Nov. 17. Students who participate in the following event may dedicate their time to be used as service hours. Join in every Tuesday at 2 p.m., using the code EnvclubSVHS. 
Leave a Comment
About the Contributor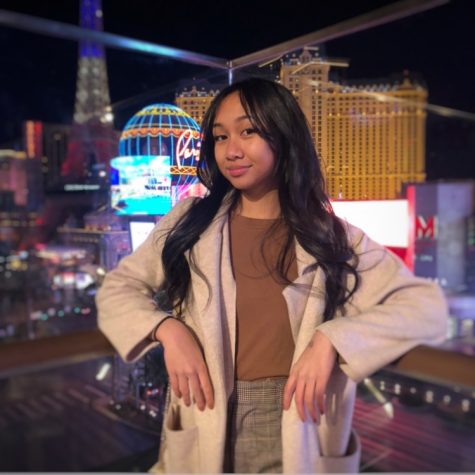 Krystka Mariano, Editor-in-Chief
Kamusta! I'm Krystka, a senior staff writer on the Grizzly Growler Newspaper, currently in my fourth year of the student journalism program. I'm a first-generation Filipino American, boba-enthusiast, and writing wild card. Need a quick recommendation for the best local food or drinks? Want to share your own fun story or just a quick chat? Let me know!