To All the Boys 2: P.S, I Don't Love You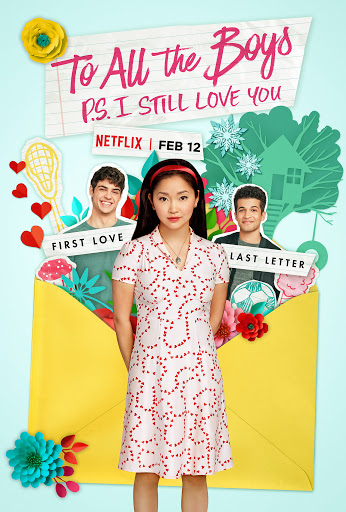 The coming of age teenage- romcom, To All The Boys I've Loved Before, is back with the sequel, To All The Boys 2: P.S, I Still Love You, to suit the affection of love this Valentine's season. However, with major changes from the original cast and lineup of events within the book, fans find themselves falling out of love with the film.
Laura Jean's (Lana Condor) teenage love story with highschool heart-throb, Peter Kavinski (Noah Centineo), continues on like something out of a fairytale, finally ending up in a "happily ever after" with the boy of her dreams. But when yet another mix-up of her past love- letters gets back to one of her former crushes, John Ambrose McClaren (Jordan Fisher), Lara Jean finds herself in the midst of a love dilemma, facing challenges in her relationship with Kavinsky, and the past romances between McCalren. 
Following up the the events of Jenny Han's coming-of-age novel, P.S I Still Love You is the second book in the hit franchise amongst young adults. While the film keeps the same aesthetic and theme from the previous movie, the character choices and development of conflicts lack the relatability that many teens were fond of from the first film. 
For the most part, the film follows through with the components of the book quite accurately. Many characters were brought into life with good justice, staying true to their actions and personalities. That goes without saying, however, that some scenes were more fitting in the book, than in the movie. Lara Jean's relationship with Peter, for example, seemed to flow naturally and romantically when written, but their so-called "cute" moments in the film came rather unrealistic. Dialogue between the couple seemed overly forced, creating cringey moments rather than the typical "cute" ones intended of the ordinary teen romance genre. 
Their character development in their relationship took noticeable turns throughout the story, but was primarily driven by their choices. With negative traits being reflected within their romance, the ending left a somewhat unpleasing  feeling. With new characters such as Fisher's soft-romantic lover boy, John Ambrose, the  light-hearted, portrayal of his character, raised the idea of who wouldn't fall for him? However, in typical teen romance fashion, the awkward, quirky Laura Jean falls for the bad-boy socialite, Peter, once again.
The 2020 film offers an insight to further grow the relationship between the two lovebirds, showcasing the the standard ups and downs of an angsty teen relationship. With other variables thrown in the mix, such as a new love rival, it adds more variety to a cliche, yet engaging young story.