Spring Valley applies to be IB school next year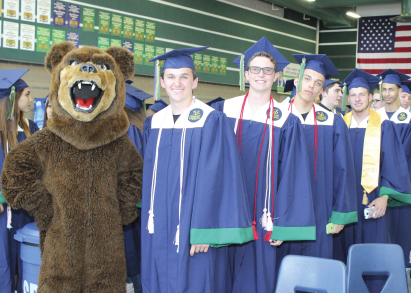 This year, Spring Valley High School is beginning the process to become one of six International Baccalaureate (IB) schools in the Clark County School District. An IB school is an educational foundation that offers four elite programs of international studies to increase a student's work ethics in both school and out in the world. This will mean modifications to student's daily schedules to help them receive an IB diploma.
Spring Valley will become an official IB school in three years, but students will see many changes before then, including a four-by-four block schedule, new classes need for graduation, and an increase in student population. The block schedule includes eight classes, each lasting for an hour and a half.
"My job here is to get things up and running," explained Spring Valley's newly hired IB Coordinator, Mr. Tony Gebbia.
Spring Valley was asked to be an IB school by the Superintendent of the Clark County School District, Pat Skorkowsky. Mr. Gebbia was then hired and Spring Valley was able to apply for two programs, one of them being the International Baccalaureate Middle Year Program (IBMYP). IBMYP begins with 6th graders, and ends in 10th grade. Spring Valley was partnered with Johnson High School, to offer all five years of the program. Once students take IBMYP, they are then able to start the International Baccalaureate Diploma Program (IBDP).
"Spring Valley is already a successful school, IB would make it better," Mr. Gebbia.
The IBDP enables students to receive a special graduation credential, the IB diploma, as soon as they finish the program's requirements for their 11th and 12th grade years. The requirements include: Passing all six IB exams, a research paper, taking six years of the same foreign language, mandatory community service hours and a year-long personal project. Though if a student doesn't successfully acquire the IB diploma, they will, in most cases, obtain the advanced honors diploma on graduation day.
When a student earns an IB diploma, they can use some classes as college credits in United States and skip many college core classes. It can also give the student's the ability to go to a college out of the U.S., such as Cambridge or Oxford University.
According to Mr. Gebbia, IB has a high school graduation rate of 100 percent and a college acceptance rate of 100 percent, with 98 percent of IB graduates finishing college. The reason is because IB encourages students to try harder, improves their organization and work ethics, and challenges them with harder courses.
"I don't want any negative changes here in Spring Valley," Mr. Gebbia stated.
Spring Valley's principal, Mr. Tam Larnerd said he is very appreciative of Mr. Gebbia's help in the process.
"We are very fortunate to have recruited Mr. Gebbia," Mr. Larnerd expressed.
With Mr. Gebbia's help, Mr. Larnerd will be able to accomplish his current goal: to increase Spring Valley's population. Right now, only 2,000 students attend Spring Valley, but once it changes from public to an IB school, this will convince the other 1,000 zoned students, who study at magnet schools such as Clark, to become a Grizzly.
One of the major alterations will be the four-by-four block schedule, as mentioned before. When asked how he sees Spring Valley in ten years, Mr. Larnerd replied,
"It will truly be the premiere high school in Clark County."
Leave a Comment