Smith Center's Wicked, a show worth seeing
The Smith Centers "Wicked"  blows audiences away with its clever humor, well picked cast, and fun music.
Based on a book by Gregory Maguire, "Wicked" premiered on Broadway in 2003, and has won numerous awards, including one Grammy and three Tonys.  At The Smith Center, it is performed by thespians who are currently touring the United States.
"Wicked" tells the untold story of the witches of Oz, before Dorothy arrived in the famous "Wizard of Oz." The story focuses on two very different young witches and their unlikely friendship. Elphaba, who later becomes the Wicked Witch of the West, was born with emerald-green skin, and because of this she is often misunderstood. Others frequently look down upon her, yet she is fierce, intelligent, and bold. The other is Galinda, later known as Glinda, who is wealthy, beautiful, and popular. The two meet each other at Shiz University, after Elphaba is sent there to care for her wheelchair bound sister, Nessarose. They are forced to become roommates, and initially struggle to get along.  At first, Elphaba sees Galinda as shallow, but they later learn that there is more to each other than they expected.
"Wicked" is a stunning performance. The actors convey their characters in a tremendous way, by touching the audience, and being witty and whimsical at the same time. The vocals are spectacular, particularly by Nicole Parker, who has previously portrayed Elphaba on Broadway. With a thick plot-line to cover, the play occasionally seems to drag. Despite this, the characters still manage to create strong emotion and an ability for all audience members to relate.
"Wicked" will play at The Smith Center until Oct. 7. Tickets are sold online or at The Smith Center.
Upcoming productions at The Smith Center include Billy Elliot, Disney's Beauty and the Beast and West Side Story.
Leave a Comment
About the Contributor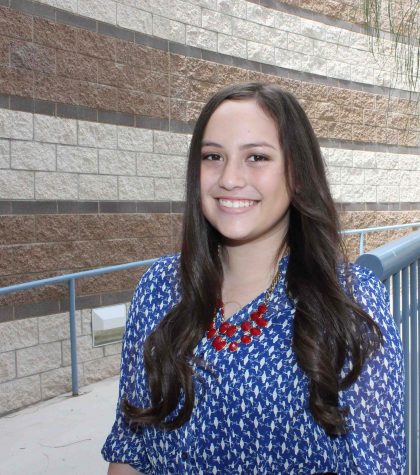 Hannah Tran, Staff Writer
"If I could be anywhere, I'd be swimming with whales!" said Hannah Tran, second year staff writer. Some words to describe Hannah would have to be: funny, beyond sweet, and a little awkward sometimes. She has a passion for student council, being the sophomore president, and volunteers at hospitals on her free time. She loves 80's songs and movies, and she's determined to meet James Franco just because he's gorgeous. And according to her, she wants to save her favorite animal, whales because they're adorable and cute.

Her worst subject in school is math, and her favorite one is journalism which is why she chose it again for her sophomore year. Honestly, she's a great person due to her amazing personality and hilarious yet awkward remarks, and she's a great writer. When she graduates high school, her dream college is Columbia University in New York, and she has a unique goal of marrying a person from India sometime in her future…