Las Vegas Finally Warm Enough To Wear Comfortable Clothing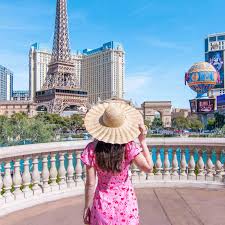 It's finally no longer necessary to wear Big Jackets, Joggers, or Boots because the warmer weather has finally come around the corner! Yes you heard that right! Las Vegas finally hit 90 degrees in April after continuous weeks of breezy, cold mornings.
"I personally like that it's getting warmer again, because in the winter you just have to wear a bunch of hoodies, jackets, just a lot more work to do things," Sophomore Ilya Buiniakou said. "And it's also a lot nicer to spend time outside since it's not as cold anymore."
It really shows a lot of students miss the warmer weather and prefer it more over than colder weather. We live in a desert where we are used to scorching hot weather all the time, so it's no surprise people are comfortable with it. Las Vegas is near California's Death Valley, one of the hottest locations in the area. 
"I like it for the most part like currently it's almost perfect," Senior Joshua Prybil said. "It's very enjoyable right now but once it gets too hot, it's not very pleasant."
On Easter day, we saw Vegas hit 80-degrees for the first time. It really felt like the warmer weather was to come with some warm sunlight. But sometimes the hot weather can affect people in certain ways you may not have thought about.
"As it gets warmer you gotta spend money [to fix my AC for my car] it affects me financially because I have to spend a few hundred bucks to fix my AC." Prybil said.
You definitely may see people having their windows open all the way on hot summer days, and that may indicate that their AC in their car may not work so they have to resonate to opening their car windows for fresh air. 
"I think with weather changing comes the allergies [I'm personally not too allergic] but I do get some allergies," Buiniakou said. "So as the warmer weather comes in, the allergies start to come in, which kind of sucks." 
Allergies are a very common In Vegas with the hot and windy climate when the plants produce and spread pollen around spring. In May 2011, Las Vegas was ranked the 36th challenging state to live in with Allergies.  
On April 11th, Las Vegas finally hit 90-degrees which has been the warmest day in April. While some wind and gust at 9-11 mph still appeared, it wasn't as extreme as the previous month with no sunlight. There still hasn't been a day this year where we have reached 100-degrees here in Las Vegas, but we're definitely close to hitting that number soon.
Leave a Comment