It Starts With Us – A Brilliant Exposé on Domestic Violence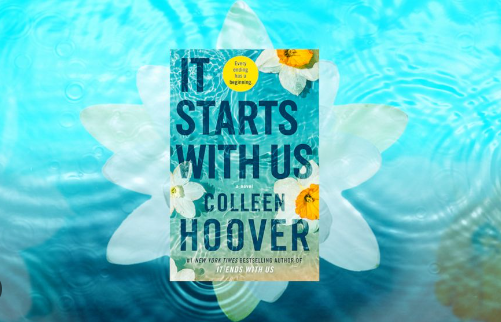 It Starts With Us is a novel that presents life's struggles at its finest. It gives readers very mixed feelings due to the ongoing romance and domestic violence. It also shows how quickly a relationship can become toxic, while also showing how long lasting healthy relationships can last a lifetime. This novel brings a purpose and passion to this "forever" love that pulls readers in for more. 
It Starts With Us is a novel written by Colleen Hoover and was published on October 18th of 2022. It is the sequel to It Ends With Us and is classified as a contemporary romance, and may be called a new adult fiction. Fans have been waiting six years for the release of the novel. It Starts With Us shows a shift in the points of view between both Atlas Corrigan and Lily Bloom. 
Hoover wasn't really into the idea of creating a sequel for It Ends With Us, due to the pain she had gone through when writing and publishing It Ends With Us. However, with the popularity of her books on BookTok, a community on TikTok that shares feelings and ideas on books and literature pieces, and the eagerness of her fans she decided to write the sequel It Starts With Us. 
From It Ends With Us to It Starts With Us, the plotline has definitely gone through many twists and turns. In It Ends With Us, the plotline had a lot of sharp turns to encompass the reality of domestic abuse. It starts out with Lily's childhood and her first love Atlas then moves forward to when she first met Ryle Kincaid and soon eloped with him in Vegas. Although their relationship together was off to a good start, it only worsened throughout time when Ryle's jealousy got the best and worst of him, this conflict led to the end of Lily and Ryle.  
Now in It Starts With Us, both Lily and Ryle are co-parenting Emerson, their daughter. Throughout this Lily's life starts to get very stressful with Atlas coming back, but she still manages to get through it even with Ryles conflicting opinions and thoughts of Atlas. It is important to note that Lily finally steps up to defend her daughter and herself later on in It Starts With Us. When she finally had the courage to stand up to Ryle, she found her path towards peace and happiness with Atlas.
The character development seen in It Ends With Us to It Starts With Us, has changed the perspective of many readers on both Atlas and Ryle. Starting off with Atlas-he is a very loyal, charismatic, and selfless person. He hasn't had the best childhood with the trauma he had undergone, but as he had found his way to Lily. Now back to her in It Starts With Us, he feels like he will finally get the happy ending that he has been waiting for. Ryle on the other hand is very quick tempered, smart, and is a very wealthy neurosurgeon with a rough past, which is why Lily and Ryle got together on a good note in the beginning of It Ends With Us. Though that anger and past of his is what brings an end to Lily's and his relationship. 
Throughout It Starts With Us, he still lets his jealousy and obsessive state get the best of him. Ryle thinks that one day he will "win over." Lily; however, when that doesn't happen and Atlas ends up being in the picture again, he starts to get out of control. It is seen mainly throughout It Starts With Us, that Lily once had high hopes for maybe letting Ryle back into her life once and for all, but she quickly realizes that it will never happen. Overall the character development between Atlas and Ryle represents the difference between someone who creates a healthy relationship versus someone who creates a toxic one. Both of their characters symbolize the two different types of relationships that couples can have, mainly depending on the individual's personality and how they take action during tough situations within the relationship. 
Although there are several positives to It Starts With Us, there are many visible negative aspects to this novel as well. It Starts With Us promotes abuse, specifically represented by Ryles' toxic and at times violent behavior. Ryle tends to have obsessive habits over Lily-mainly because he thinks that Lily and him still have hope in the future. Though Lily thinks otherwise, Ryle gets riled up and constantly makes excuses for his actions thinking that it will do him justice. Most of this abuse is also seen throughout the lives of both Atlas and Lily's childhood and their relationships with their mother and father. Overall, Ryles actions demonstrate to individual readers that self-control and patience is one of the most important aspects of having a good and stable relationship/marriage with someone. 
In conclusion, the novel does present some negative aspects of abuse and domestic violence, but this just goes to show how people need to pay more attention to the internal and physical demons that people fight everyday while going through domestic abuse and violence. It Starts With Us represents the struggles that not only Lily faces, but people in society. It sets forth an example of how to get through a bad relationship and marriage.  It also presents the idea that sometimes people are not meant to be-like Lily and Ryles relationship.Readers around ages 14 and up should read It Starts With Us, as well as the first book It Ends With Us because it includes some mature content that should not be read at a young age. 
Leave a Comment