SOL and SHH's Hispanic Heritage Night
Spring Valley's very own Sociedad Honoraria Hispánica and Student Organization of Latinos hosted a successful Hispanic Heritage Night in honor of Hispanic Heritage Month on October 12 from 6 pm to 8 pm. There were many activities held there and students had a wonderful night after being planned for months. According to advisors, club officers, and attendees, Sociedad and SOL hope to create a new annual SV tradition.
Some of the activities there were performers such as a dance performance from SV's Pacific Islander Cultural Club, a Mariachi band, and a band called Los Gemelos Sarmiento. There was also food from different clubs, PICC, a food truck, games played, boots dancing on the floor, and many posters with information about different clubs and Hispanic culture itself. 
"The preparation was very hard leading up to this event," Vice President of Sociedad Felipe Dominguez said. "Not only was the day somewhat difficult, but both SOL and SHH also met up for weeks on end to discuss planning. We also did all sorts of things like posters or creating an itinerary." 
The night started with an introduction and then a performance from the Pacific Islander Culture Club (PICC), which the crowd loved. There was also a band called Los Gemelos Sarmiento who played beautifully, and after that, there was a Mariachi band from Las Vegas Academy who also played wonderfully. Music continued to play all throughout the night.
 "Not only were we able to represent our culture but also find connections with other cultures with displays from various cultural clubs," Evelyn Mora, President of SOL said. "Throughout the night we were able to appreciate Latino and Hispanic students and staff."
The PICC sold Musubi; the Gaming Club which sold Hispanic snacks and candies. There were drinks sold by SOL and SHS, and a food truck and Authentic Argentinian Empanadas that were homemade and sold in the front of the school. Games included in the quad were UNO, cards, coloring las Calaveras, (skulls), and a poster for the night where anyone who attended could sign their name on it. There was also a Nintendo Switch brought from Gaming Club to play games like Mario Kart, and posters were all around the quad with different information on clubs and hispanic culture.
"I feel the night went really well and everyone had a lot of fun!." Dominguez said, "It was cool to see non-hispanic people attempt different dances or watch the band and groups perform even though it may not have been a part of their culture."
There were many clubs recognized at this event who do not get as much recognition or publicity as the other clubs do. Clubs such as SV's brand new Armenian Club, and also, Bible Club, H.E.R. Club, and Writing Club and a few other clubs. 
There were beyond expected amounts of people, all advisors and club officers expressed. By the end of the night, there were many cowboy boots on the floor dancing until the event was over. 
"There is joy and strength in unity. Seeing students of different backgrounds enjoy and embrace a different language, different food, different music was really heartwarming." previous SOL advisor, Ms. Hardy said.
Leave a Comment
About the Contributor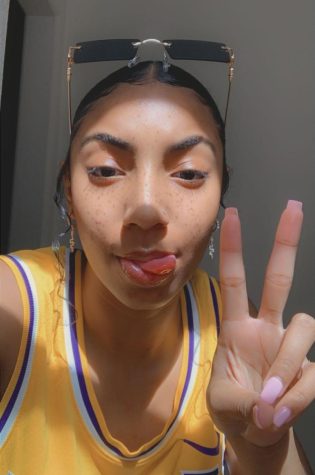 Yanni C., Sports Editor
Hola, I am Ti'yanni Commodore, a Grizzly Growlers Sports Editor, Photo Editor, and staff writer, I have been on the staff for two years. You can find me writing in every category, especially news!I have a column called Yanni Wonders is under! With being photographer and photo editor, I would love to see the (school appropriate) photos and/or story recommendations you have, so please feel free to email me! I am Flag Football Captain, Track & Field Captain, HOPE Squad member, Sports Photographer, Football Manager, apart of the Pacific Islanders club, IB Student, and a Trial By Peers Attorney.

If you see me around the school let me know if you need anything or just say hi! <3