Spring Valley's Homecoming Court: No More 'Kings' and 'Queens'
October 1st was homecoming for Spring Valley, but homecoming court was announced earlier in the week. Court royalty was announced towards the end of homecoming with someone from each grade level win. This is different from traditional courts years before.
"I was in the student council last year, and we decided to change from kings and queens to all,"Junior Hayley Rizor said. "This was to account for people that may not identify as the gender that they are assigned to or maybe for people who are non-binary and use they/them pronouns."
Spring Valley students have a higher sense of diversity now without the traditional homecoming kings and queens.
"We felt that the traditional 'kings and queens' of homecoming were a little dated," said student council advisor Kyle Brown. "In doing away with that we were able to be more inclusive to ALL students instead of just a majority of students."
Student council advisors have to adjust to the change as well, considering this is their first year with the council change. When looking at their efforts, they did the best they could.
"We [Brown and Lebaron] are both first year student council advisors and still working out how to do things the best way that we can," said Brown. "We will continue to try to grow and evolve as a council with the input of students and our student government."
The homecoming football game was the night before, and students that participated in the homecoming court were able to be part of the halftime show. They were all individually announced and were able to walk the track with the rest of the floats.
"It was cool to be a part of the halftime show," sophomore Ka'mea Quinn said. "But I was really nervous and didn't know what to do."
For the students who were voted into homecoming court, they were ecstatic with the idea of being a part of something like this. Especially the freshmen, being placed into something so special in their first year of high school.
"I was really excited, especially since I'm a freshman and it made me feel like I belonged and included," Freshman Ainsley Carter said.
During the night of homecoming, the royalty winners were announced. Ainsley Carter won for freshmen, Ka'mea Quinn for sophomores, Jasmine Evans for juniors, and Macda Agnaw for seniors.
Leave a Comment
About the Contributor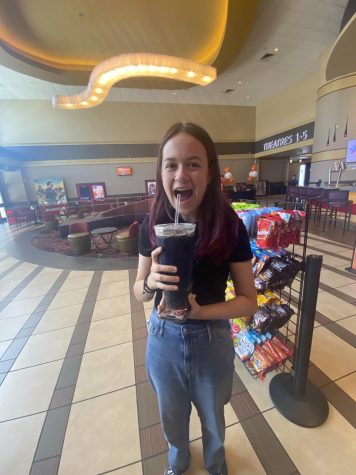 Alex R., News Editor
Hi! My name is Alex and I am the News Editor for the Grizzly Growler. This is my fourth year in the journalism program. I love collecting vinyls and listening to all kinds of music. I am super excited to bring a bunch of stories including news, entertainment, and opinion. You can add me on instagram @a1ex.nr and if you see me in the hallways don't be afraid to say hi!