Spring Valley's HOCO Game!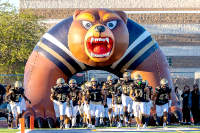 Spring Valley lost the battle of the real SV game on September 30th against Sierra Vista at our homecoming game. 
Being a famous traditional rivalry game, there was high tension in the air for both teams. During the game, Sierra Vista led off the game with three touchdowns within the first half of the game. As it was Spring Valley's homecoming game, some people in the stands were upset, however, the student section stayed hopeful. By keeping the spirit high, it helped the players continue further in the game, many of the players said.
"I feel like we have a lot of [school spirit] going on and it's pretty cool to know someone believes in us," said Senior Football Captain Kelze Howard. "It helps the culture of the school and really brings people's high school experience to life." 
Further in the game, Sierra Vista was up 22 points to 0 until the 3rd quarter. The Grizzly's eventually made a touchdown pass and a score on a kickoff. This led to the Grizzly's being up 13 to 22 by the end of the fourth quarter. Although Sierra Vista won, Spring Valley kept their spirits high and stayed motivated as a team.
"This team is special and [has] an unbreakable bond. And if we make playoffs we'll make a deep playoff run," said Captain Alec Livingston. 
To help bring the Spring Valley together before the game there was an assembly. The first one after two and a half years because of COVID-19. This helped get more students excited about homecoming that Saturday and the rivalry game just a few hours away. 
"That assembly was super awesome and maybe one of the coolest experiences I've had in all of high school," said Captain Colton Jones.
Leave a Comment