A Hopeful Season With The Grizzly Tennis Team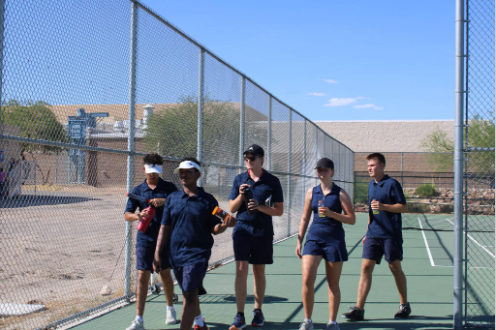 Spring Valley's Tennis team has taken on a total of six schools across the valley, winning every single one of the matches. This makes both the girls and boys team undefeated and places them currently first place in the conference.
"Many of the new players are really good," Junior girls' team captain Hannah Sorenson said. "I also think that new players that have never played before are eager to learn and are quickly getting better."
The current dynamics of the team is one of the main reasons why they are undefeated. They show each other all of the support they need to play the game.
"Our (team's) greatest strength is being there for each other and showing our support to all of our players," Junior team captain Jana Adzhemyan said. "Cheering each other on really helps us become better and how good our sportsmanship is."
However, there are some downsides to playing in the Las Vegas heat and even with the team being around 40 players, which is a much bigger team compared to last year.
"It is hard playing in the heat, we have to take a lot of breaks in between playing, causing us to waste some time," Sorenson said. "A lot of people don't get to play as often as they may have wanted to, since our team is so big this year."
Even with the Vegas heat and the large team this year, the team captains have been working hard to make sure that everyone gets the play time they want and are constantly setting goals for individual players and the whole team.
"The team's goals are to not lose any spirit. One game doesn't determine who you are as a player," Adzhemyan said, "I try to let [the team] know that losing a game or set doesn't mean you are bad at tennis."
With the pressure of being undefeated at the moment, the team knows how to tackle it and win even more games for the rest of the season to go onto state championships.
"We have been working really hard this season," Sorenson said. "But a lot of us are playing for fun, and we should still be proud of what we have accomplished so far."
The tennis team has high expectations going into the rest of season, and they are all excited to see what the rest of the season will hold for them.
"I am feeling very confident because we have so many incredibly talented players," Adzhemyan said. "I think we have a good shot at making it to state championships."
Leave a Comment
About the Contributor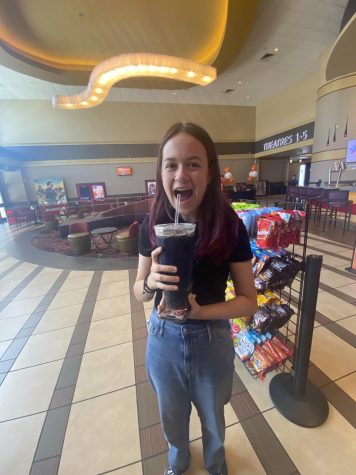 Alex R., News Editor
Hi! My name is Alex and I am the News Editor for the Grizzly Growler. This is my third year in the journalism program. I love reading and listening to all kinds of music. I am super excited to bring a bunch of stories including news, entertainment, and opinion. You can add me on instagram @koolcidalex and if you see me in the hallways don't be afraid to say hi!