Brand New Technology
Spring Valley introduced a new Chromebook model for students to use this 2022-2023 school year. The previous Chromebooks were recycled for a new cause. The most notable feature that the students are highly impressed with are the brand new touch screen options within some of the new Chromebooks! 
CCSD donated the touchscreen Chromebooks by the end of the school year of 2021-2022. According to the district they have given these touchscreen devices to every school in the county to ensure there is equitable technology access for all students. There were around 500-800 of the previous Chromebooks that had to be recycled, leaving SV with a new set of Chromebooks. 
The Chromebooks from previous years started to slow down for CCSD students, they began to freeze up and not take in updates as new Chromebooks began to release. These Chromebooks would only update while they were shut off. Many students in CCSD don't shut down their laptops in order to save previous class work in tabs, which causes students to experience freeze ups in their Chromebooks. This became a heavy nuisance for students and affected their work ethnic. 
Due to the older Chromebooks lagging and freezing, students gave their feedback to the school district demanding to receive the newer technology.
"I did not get a touchscreen Chromebook, I wish I did because I have had this Chromebook since last year, I have to restart it everyday because it freezes." student Kieanna Nixon stated. 
In a way, the Chromebooks have become a personal preference. Some students like the newer ones, some like the older ones. According to Ms.Betchel, Spring Valley's school librarian, there were many Chromebooks switched out to receive the older ones again because students did not like the touch screen feature, or vice versa. 
The touchscreen feature in a way correlates with students' everyday technology and makes it more familiar, such as cell phones and tablets. As students continue to live a fast paced life in order to maintain all of their work, this familiarity makes it easier to use for most. 
"I feel like they are very effective and a lot easier to use, I can zoom in and out quickly and get certain things quicker." Jaelina Richardson said."I really like them a lot."
Multiple students and staff were surprised at the new feature of the Chromebooks being touch screens.
"I want what is best for our students." exclaimed Principal Tara Powell "This is just a piece of technology, our most important resource is your teachers."
Although students do have a new piece of technology, Principal Powell would like to remind students that teachers will still aid students the most throughout their educational journey.
Leave a Comment
About the Writer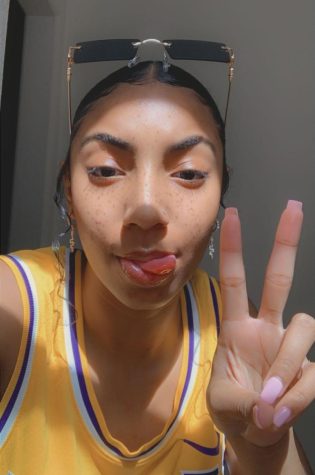 Yanni C., Photo Editor
Hola, I am Ti'yanni Commodore, a Grizzly Growlers Photo Editor and staff writer, I have been on the staff for two years. You can find me writing in every category, especially news!I have a column called Yanni Wonders is under! With being photographer and photo editor, I would love to see the (school appropriate) photos and/or story recommendations you have, so please feel free to email me! I am a HOPE Squad member, Sports Photographer, Football Manager, apart of the Pacific Islanders club, IB Student, and a Trial By Peers Attorney.

If you see me around the school let me know if you need anything or just say hi! <3