The Deal with Parents
A Look Into Student's Relationships With Their Parents
Picture this, you are at the dinner table with your family, tensions are rising, mid conversation you are made aware that your parents do not fully understand your point of view, discouraging your input into the conversation. 
During one's adolescence and coming of age, relationships with parents and guardians seem to complicate. The transition from childhood to young adulthood, means needing to receive trust and freedom from one's guardians in order to grow into one's own identity, separate from their parents. 
With this considered, each young person will develop their own individuality within the context of their relationship with their guardians. The relationship that one may have with their parents determines how successful and supportive they may feel while growing up and transitioning into adulthood.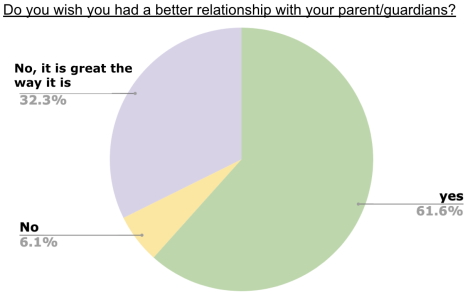 For a majority of students at Spring Valley, they feel a disconnect in the relationships they have with their parents. According to a poll conducted on the Grizzly Growler Instagram, 61% of students would like to better their relationships with their parents. 
 Anecdotally, some students chalk up this disconnect in their relationships with parents to the lack of open communication.
 "I feel like in a way they show their love for me through materialistic gains," an IB junior said, preferring to remain anonymous."I know it's hard to express support when you've never experienced it first hand, but I wished they would just communicate with me better and not ridicule my actions."
While parents think providing necessities like material support is how they are able to strengthen relationships with their children, the lack of emotional support that comes from little communication hinders the parent- child relationship most of all. 
It is often said that communication is key, which is most definitely true in maintaining a functional relationship with parents. 
Healthy communication looks different for everyone, sophomore Damian Escobar shared that some advice he gives to kids' relationships with parents is "just talking with each other." He says that communication goes both ways where both sides make the effort to make a stronger relationship. 
"It also takes mutual respect among people. But generally a stronger relationship is opening up to one another, both parents and children understanding each other," Escobar said. 
Junior Brooklyn Lastinger shared that parents are capable of being friends with their children, through the willingness to communicate. Communication is of importance to Lastinger as she believes that if one takes the time to communicate with their parents more, an improvement in the relationship will be seen. 
"I would say the thing I don't struggle with the most is communicating with them. That's really how our relationship is as strong as it is," Lastinger said. "I've always communicated with them and so therefore I trust them and they trust me."
Something that plays a role in parents having a good relationship with their children, comes down to how similar they are to their parents in belief, characteristics, and ideals
However, It is easier for parents to support their children if they agree with them. The level of support that children receive from their parents may vary due to parents being fundamentally different from their children. 
In the case of students like Escobar, he believes that his similarities with his father are what allows for him and his father to be influenced so greatly by each other. ¨There's really no topic that I wouldn't discuss with him since he's my father,¨ said Escobar. ¨And whenever I need to talk about sensitive topics, I'm never concerned if it's going to be awkward or if he's going to understand me.¨
However this is not the case for other students who share differing fundamental values from their parents. With some student's relationship with their parents, cultural and age gaps bring significant barriers to one's relationship with their parents, and differing ideologies can make maintaining a relationship that values consideration and compassion difficult. 
Anonymous shared it is difficult to discuss topics about sexuality, religion, and political beliefs with their parents, as they aren't as progressive and open minded. In addition to this, they feel pressure from their parents, and they try their best to respect them, however their parents can't seem to do the same. 
"My parents are immigrants to the U.S, and they never really adapted to the social norms here. My sister and I try to educate them as much as possible but even with this, they still hold onto their own beliefs," said anonymous. "I think this is because they kind of have a God complex in which they feel like their answers are always right. I also feel like they don't like it when their children teach them because it shows that they aren't able to control us anymore."
When it comes to those students who feel as if communication with their parents is difficult, all hope is not lost. Efforts to rebuild these relationships with parents start small. 
"Generally staying close and just having normal conversation with each other helped a lot,"  said Escobar when discussing how he has gotten to a healthy level of communication with his father. "Cause one way we go about maintaining our relationship is by talking about our days everyday…But these kinds of conversations aren't the only thing that build up to a good relationship, just talking about emotion and nonsense conversations helps build that kind of friendship bond,"
It's important to know that attempting to obtain open channels of communication with parents or guardians is not applicable for all students and their home life circumstances. This being said, it is also not completely on students to rebuild strained relationships with their parents.
Having responsible adult figures in your life to turn to and be able to fully express yourself around is a vital necessity to one's adolescents. Which can be obtained in different forms and looks different for everyone. Meaning if you're not able to find these channels of communication with your parents or guardians, teachers or mentors you can trust are great alternatives to guiding you through the unforeseen trials of young adulthood. 
Leave a Comment
About the Contributors
Gisell Ponce, Staff Writer
Bueno, I'm Gisell and I'm a senior staff writer for the Grizzly Growler Newspaper! I've been in journalism for three years and two years as a staff writer. I continually aspire to depict my interest in national, world and Spring Valley events in news and opinion articles. I enjoy translating my appreciation of entertainment and media into multidimensional reviews. There is much to learn and unpack about the diverse humans at Spring Valley, if you have a compelling idea or story, please share!
Mariam Kuwa, Staff Writer
Greetings and Salutations! I'm Mariam, a senior staff writer for the Grizzly Growler Newspaper. I am a second year staff writer and have been in journalism for three years. You can find me writing various stories ranging from entertainment to news articles. I aim to master the ancient art that would be journalism and produce awe-inspiring work that can accurately vocalize the diverse views of the SVHS community.