The First Two Meets!
On March 9th, Spring Valley's Track and Field team won their first meet, which was excitingly at Spring Valley. The meet was against Durango High School, Basic High School, and Amplus Academy.
During the meet, SV boys won with 118 points, 60.5 points ahead of Durango High School who had 57.50 points, and the girls won with 89.50 points which was 27.5 points ahead of Basic High School who had 62 points.  
Spring Valley boys took the lead in many of the events which resulted in an overall win for their group, the highest number of points that the boys won in one event was 13, in the 200 meter sprint. They scored in every event besides the 800 relay, 1600, 1600 relay, and tall jump. The event with the highest amount of points from the lady Grizzlies was the 100 meter sprint. SV girls participated and scored points for every event besides the 400 meter sprint, 3200 meter, and 1600 relay. 
The fastest time for the boys individual 100 meter sprint was Ethan Shuford with 11.81 seconds; second place was held by Alec Livingston at 11.58 seconds. He previously played football this year, and both boys were from Spring Valley. For the 100 meter sprint, the fastest time for the boys 200 meter sprint was Ethan Shuford who had 23.45 seconds. 
The fastest time for the women's individual 100 meter sprint was Rayne Dunn, who received 13.54 seconds. She was also the fastest for the 200 meter sprint with 28.41 seconds. For the women's 100 meter dash, all four members of the women's relay team were in top 6. 
"Our first track meet was great, we had a lot of personal records," Senior Rayne Dunn said. "Even with that, I'm excited to see where this season takes us."
Rayne is a returner who is also in women's relay's 4×1 and 4×2 relay and did an excellent job at running the third leg. 
"It was really nerve racking but once I hit the track I remembered everything from practice and just ran to the best of my abilities that day.," Sophomore Danielle Reta Lopez said. "I had a lot of fun, the competitiveness made the races more exciting." 
"Dani" is a newcomer, who is also a cheerleader, hoping to get faster, continue to love the sport, practicing hard, and having lots of fun. 
The meet overall was a great one, there was so much support in the stands by the Grizzly family members. 
Leave a Comment
About the Contributor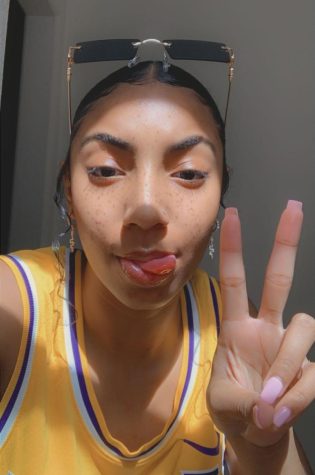 Yanni C., Sports Editor
Hola, I am Ti'yanni Commodore, a Grizzly Growlers Sports Editor, Photo Editor, and staff writer, I have been on the staff for two years. You can find me writing in every category, especially news!I have a column called Yanni Wonders is under! With being photographer and photo editor, I would love to see the (school appropriate) photos and/or story recommendations you have, so please feel free to email me! I am Flag Football Captain, Track & Field Captain, HOPE Squad member, Sports Photographer, Football Manager, apart of the Pacific Islanders club, IB Student, and a Trial By Peers Attorney.

If you see me around the school let me know if you need anything or just say hi! <3