Secretary of Education visits Spring Valley
On Thursday, February 24th, Secretary of Education Miguel Cardona, Senator Jacky Rosen and other education officials, visited Spring Valley as part of their Nevada tour in discussion of how COVID-19 has affected students revolving the return to in-person school. 
Principal Tara Powell stated that officials had chosen to attend Spring Valley at random.  Five students were chosen to represent diverse perspectives   in what could be done to promote key relationships with a positive learning environment. 
"The kids talked about the relationships they had with their teachers during the pandemic and after the pandemic, and how important it was for [the] relationships to continue to be fostered in order to move forward," Powell said. "They talked about how great it is to be here and getting to know their teachers in real life, and not behind a computer screen." 
To much surprise at the opportunity, staff and students enjoyed their time spent with the leading officials. The day had led to discussions of achievements and hard work the school's staff puts in, every single day. 
"It was awesome," Powell said. "It was an opportunity for us to show the work that the staff does every single day here. Every single day, we have so many committed people, and to hear the kids talk about how grateful they were to the staff was humbling."
Cardona was able to connect and understand the students' perspectives to further engage into meaningful conversations, creating a welcoming environment and versatile topic of discussion. 
"What I enjoyed the most was that Secretary Cardona was a true educator and spoke our language. He truly gets it because he has walked in [an educator's] shoes before," Powell said.
As per Clark County's superintendent Dr. Jesus Jara, Secretary Cardona wishes to provide funding and initiatives to improve teacher shortages and staff to accommodate resources for students.
Leave a Comment
About the Contributors
Alaizza Romero, Editor-in-Chief
Kamusta! I am Alaizza, currently the Editor-in-Chief of The Grizzly Growler! I'm a Junior in the IBDP, and I absolutely ADORE reading, music, environmental facts, and 5 Seconds of Summer (ofc). And, I am a fellow Model UN(er)! I am truly excited to get to know even more people around campus this year. Hmu if you want book recommendations...I have plenty:)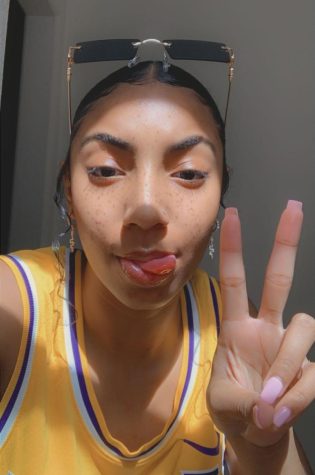 Yanni C., Photo Editor
Hola, I am Ti'yanni Commodore, a Grizzly Growlers Photo Editor and staff writer, I have been on the staff for two years. You can find me writing in every category, especially news!I have a column called Yanni Wonders is under! With being photographer and photo editor, I would love to see the (school appropriate) photos and/or story recommendations you have, so please feel free to email me! I am a HOPE Squad member, Sports Photographer, Football Manager, apart of the Pacific Islanders club, IB Student, and a Trial By Peers Attorney.

If you see me around the school let me know if you need anything or just say hi! <3