Flag Football fights off to playoffs, JV steps-up to Varsity
The Spring Valley Flag Football Varsity team had the opportunity to make it to the playoffs, with a strong fight and determination from the players. Their conference play overall was 3-3 and regular season score was 9-7.
The team played against the school Sports Leadership and Management (SLMHS) for the playoffs. On January 27th, the Spring Valley (SV) Flag football Varsity team beat SLMHS, but on February 14th, unfortunately fell short of winning the playoff game, the score was 32-12.  
Due to the recent shortage of players, some Junior Varsity players were moved up to help the Varsity team play injuries and concussions have limited the amount of players the team had. Players such as Sophomore Wide Receiver and Defense Back Ti'yanni Commodore,  Linebacker Junior KiraKay Germise, Junior Wide Receiver and Linebacker Chelsey Jones, junior Varsity Quarterback and Wide Receiver Junior Yessina Dillon, and Freshman Safety Amaya Hill played in the last few games and in playoffs to assist Varsity. 
The first quarter ended off with SLMHS having 6 points, second quarter then ended with SLMHS having 13 points, third quarter SV finally received 6 points and SLMHS had received 13 more points, and finally in the fourth quarter SV gained another 6 points and SLMHS gained 0. 
"The bond that we had with one another was amazing." Varsity Quarterback Miranda Dooley said about their season, "It was definitely like having a second family. For my first year it was pretty exciting getting the chance of playing Quarterback and being able to learn so much with my team. I am glad I got to spend this season with these girls, they definitely made every minute worth it."
Dooley jumped into this sport with no knowledge of how the game works and even paused being a Varsity Cheerleader just to join football. She picked up this sport very quickly and did a wonderful job with 1,371 passing yards and a QB rating of 97.8% by the end of the season. 
Senior Wide receiver and Running back Senior Hanna Martines-Cortes said, "We definitely need to create a beautiful long lasting culture for all future seasons. That's the only thing that was missing this year, but I guarantee that if there's culture and bonds in the future seasons there will be a high chance of winning the playoffs."
Martinez took the initiative to help lead the Spring Valley Varsity team this year. Saying the prayer every game, giving motivational speeches before each game and during most practices and starting the grizzly break before and after games. Martinez had a great number of ball carries throughout the season, having 7 touchdowns throughout the season. 
Reflecting on the conclusion of this season, the bond the team attempted to make affected the season making  it better than it has been in a while. These girls put in hard work, dedication, tears, sweat and learned many lessons during this season to make it as far as they did. For many players on JV and some on Varsity, this was their first year playing flag football, they picked up this sport and played a new position they knew nothing about, some returners even played positions they had never played. Despite that, they performed well. Girls played a game that was entirely new to them and COVID restricted the ability of the girls to play due to restrictions, there was a lot for the girls to pick up this year and had to learn, to help create this season's victories. Wishing the best to those seniors and good luck to those returners for next and upcoming seasons.
Leave a Comment
About the Writer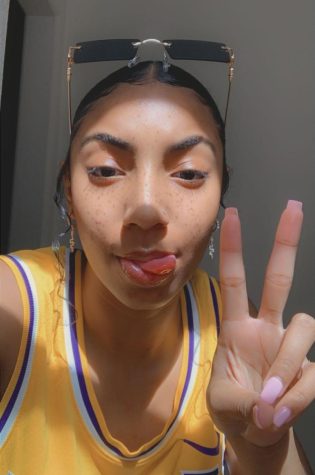 Yanni C., Photo Editor
Hola, I am Ti'yanni Commodore, a Grizzly Growlers Photo Editor and staff writer, I have been on the staff for two years. You can find me writing in every category, especially news!I have a column called Yanni Wonders is under! With being photographer and photo editor, I would love to see the (school appropriate) photos and/or story recommendations you have, so please feel free to email me! I am a HOPE Squad member, Sports Photographer, Football Manager, apart of the Pacific Islanders club, IB Student, and a Trial By Peers Attorney.

If you see me around the school let me know if you need anything or just say hi! <3