Squid Game, Money or Your Life
By Gianna Long :
Netflix's original "Squid Game" is a new Korean TV series receiving tons of attention from people all over the world. The nine episode series aired on September 17, 2021 gaining popularity quickly throughout social media. 
"Squid Game" is a new Netflix original series written by Hwang Dong-hyuk. The show is written, casted, and produced in Korean, having English subtitles for viewers to understand. Leaving viewers with a cliffhanger at the end of episode nine, the producer plans on creating another exciting second season. 
Focusing around the financially diverse citizens throughout North and South Korea, who are chosen to play a game for a chance to win money. These games are childhood based that everyone would have an equal chance at. The citizens who are asked to play are all in an immense amount of debt. With the stakes being deadly if a player does not pass a game it costs their life.. Viewers are met with the first game, "Red Light, Green Light" where there is an animatronic girl closing her eyes as she is counting down in Korean. If a player is caught moving within her eyesight, the price of getting seen is getting shot by one of the guards. By the end of this game, about half of the original number of players die because they all burst into hysterics trying to escape realizing what they agreed to play.. This quickly  shows players that the stakes are quite deadly if the game is not won. 
Mainly centered around characters Oh ll-am player 001 (O Yeong-Su), Kang Sae-Byeok player 067 (HoYeon Jung), Cho Sang Woo player 218 (Park Hae Soo), Seong Gi-Hun player 456 (Lee Jung-jae), undercover cop Hwang Jun Ho (Wi Ha-joon), and the Front Man (Lee Byung-hun) the series is focused on the story of how each player attempts to win the big cash prize. Taking place over the course of a week, players are asked to play six games in order for a chance to win the entire cash prize of 45.6 billion won or $38,448,894 in USD. The money gradually increases because the amount of debt increases when a player dies. Being selected to play due to the debt that they are in, players are gathered by men in black masks with shapes and red uniforms and brought to the facility to begin playing. 
The Front Man is the overseer of the games, he has the players play six traditional Korea and global children's games which include, "Red Light Green Light, Sugar Honeycomb, Tug of War, Marbles, Hopscotch," and to end it all "Squid Game." Players quickly realize that these are games they have all once played when they were younger. Regardless of how easy the games were, that didn't stop players from losing. Receiving green jumpsuits that have their number written on the back, this is an easy way for the red guards to determine the identity of each player who is still alive and playing. While the guards deal with the players, a cop goes undercover trying to find his missing brother and learns what heinous acts this group is doing to the civilians. Disguising himself as one of the red men, he is easily a part of the master plan that the Front Man has. Players quickly begin to clique themselves together, having teams and even beginning to attack other players. Everyone has one goal in mind and that is to win the giant piggy bank loaded with money. 
Considering the roles that these actors were asked to play they did a phenomenal job. With having to be a part of such a gory plot revolving around death, they had all done amazing at showing that true emotion. Along with having to show how all of these players were in debt and that's why they were there, the emotion between characters when sharing their stories of why they are playing was truly touching, making viewers feel for them. Throughout the season viewers were able to see the connection grow between players 001 and 456, where Seong Gi-Hun (456) would often stick up and pick Oh ll-am (001) as his partner. Another bond that was formed that viewers liked was between Seong Gi-Hun and Kang Sae-Byeok (067) seeing as they were able to open up to one another and share their personal lives of why they are playing to win this game. However, there is always the one character that fans do not like because of the way they're perceived throughout the season. Player 218 also known as Cho Sang Woo, showed his true character, appearing to be trustworthy but is the exact opposite. Giving viewers unpleasant surprises, that could make him not liked. Leaving viewers wanting more, the anxiety ridden episodes kept everyone at the edge of their seat waiting to see what would happen next. Having crazy twists, and shocking events that nobody would expect to occur makes viewers wanting more in a second season. 
Overall, the new Netflix original series "Squid Game" was amazing. Many viewers claimed this had saved Netflix with the popularity it had gained so quickly receiving a positive outcome. Any show leaving viewers wanting more is considerably well written and produced. With the high anxiety and emotional scenes this brings "Squid Game" together making viewers feel astonished at what they just watched. 
Leave a Comment
About the Contributor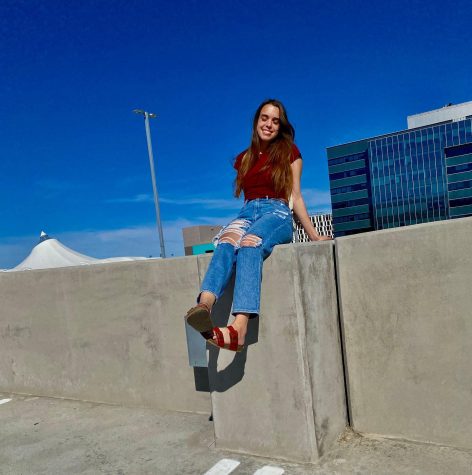 Gianna Long, staff writer
Hey guys! I'm Gianna Long and I'm a staff writer for the Grizzly Growler. I have been apart of the journalism program for 2 years, but am continuing journalism in college next year. I enjoy writing about various topics, mainly entertainment, news, sports, and opinions.