Apple iOS 15: What's New?
Whether you are rocking the newest iPhone 13 or holding on to the six year old iPhone 6s, iOS 15 is available to your devices. iOS 15 is packed with new features that will enhance your iPhone experience by helping you connect with others, be more present and in the moment, and use more intelligence to do more with your phone than ever before. 
The first public beta version of iOS 15 was released at the end of June 2021. Then came the second public beta version, coming out July 16th, 2021 that had very minor bug fixes and tweaks. The official version of iOS 15 came out to all users on September 20th, 2021. 
Apple's big phrase for this update is "In touch. In the moment." SharePlay is an entirely new way to have experiences with friends and family, no matter the distance with FaceTime. You are now able to keep a conversation while watching shows, listening to music, and being able to share your screen with your caller.  FaceTime is accessible to any device you have, whether it's an Android or Windows device, and it's still end-to-end encrypted, so your call is secure and private. 
Another amazing feature that Apple has implemented is the new Focus feature that helps have more control over how you prioritize your time and attention, so you can stay balanced and focus on what matters most to you. You can match your devices to your mindset or even signal your status. You can customize this in your Settings under Focus. 
Apple also tweaked it's notification system -don't worry it isn't that different. The most noticeable thing is when receiving a text, you can see the picture that is set for that person that you are texting. The new system also prioritizes notifications and delivers them in batches so it doesn't disturb what you are doing at that time. People who are texting you, will see when you are in Focus mode, also known as Do Not Disturb. 
Apps like Weather and Maps have changed in graphic design, but also look pretty similar. You now have animated weather icons and backgrounds that reflect the time of day. For Maps, 3D overpasses, realistic looking night views, and more local details are also added. 
This update almost feels like a continuation from iOS 14 and that is a continuation from iOS 13, making some advancements, and having few big features. These updates are supposed to help you, focusing more of what you want on your phone. You can change what you want on your phone to your needs. These features give an overall positive impact and response on iOS 15, taking from the foundation from previous updates and building upon it, improving this update overall.
Leave a Comment
About the Contributor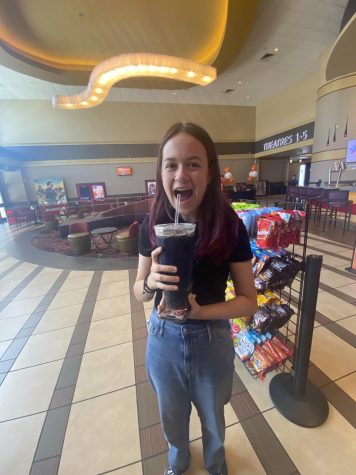 Alex Reed, News Editor
Hi! My name is Alex and I am the News Editor for the Grizzly Growler. This is my third year in the journalism program. I love reading and listening to all kinds of music. I am super excited to bring a bunch of stories including news, entertainment, and opinion. You can add me on instagram @koolcidalex and if you see me in the hallways don't be afraid to say hi!