Grizzly Tennis Family: Back-and-Better Than Ever!
Spring Valley's tennis team takes on high schools around the city this season for the first time since the start of the pandemic. With an outstanding win record, they are making the school proud as they show off both their talent and spirit on the court. 
"I feel pretty good about it, it feels like it's back to normal, I missed playing. It's a fun way to connect with new people," Boys Tennis Team Captain Senior Charles Caronia said. 
The tennis team has become a family over the last couple of months and they are positive about keeping up their winning streak. As a team, they prepare for the season through conditioning and mock matches. 
"We are practicing our serves and we are doing line by line on the court," Caronia said. "We also play games at the end of practice, like King of the Court. We've been feeling really optimistic for our future games." 
Even though the players enjoy practicing tennis after their long break away, it's hard to keep up in the intense heat of Las Vegas and to recruit new members to fill up their teams. 
"Now that we have a full boys and girls tennis team, it's a lot of fun. It's hard to play when it's over 100 degrees outside, but we enjoy the sport, so we deal with it," Senior Aline Heinemann said.
Not only is the tennis team talented, they also represent Spring Valley's honor and spirit on the court. 
"Even if we don't win a match, we still stay positive because of the connections that we have with each other. If we did well and worked hard and still lost the match, it's not a big deal . We want to have a fun season and not base our success on how many matches we win," Heinemann said.
Our tennis Grizzlies are more than just a team, they are a family. They have a foundation and support that sets each player up to succeed. Not only are they supportive of each other, they are supportive of the teams they are playing, making sure to wish them luck, congratulate them on good plays, and tell them they did a great job as they leave the courts. 
"I never thought that joining the tennis team would've been one of the best decisions I have made. Now I am friends with everyone. And this is why the tennis team is like family, because of their kindness and support," Brittany Campos said.
Leave a Comment
About the Contributor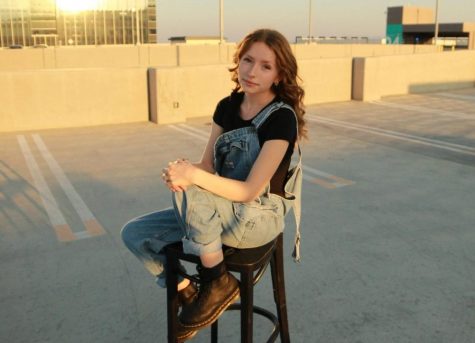 Sage Koebcke, Social Media Editor
Hello, I'm Sage Koebcke and a staff writer for the Grizzly Growler Newspaper. I've been on the staff for 3  years and have experience in both news and opinion writing. I contribute my web, social media, and design skills as well as contribute important stories on topics within our society that effect us all. Never stop reading!