Eilish spills all emotions in "Happier Than Ever"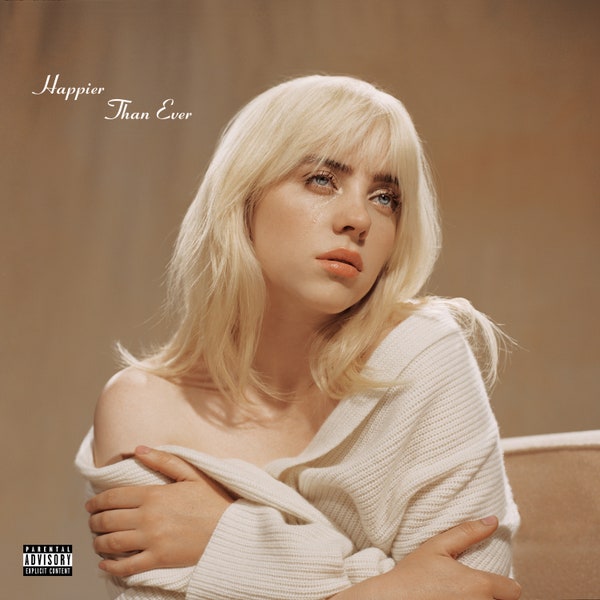 A pop electro pop teen pop indie pop, Billie Eilish is an internationally loved woman, almost 20 years old and has over 90 million Instagram followers, and had over 13.7 billion global streams from her music; released a new album called Happier Than Ever.
 Billie's brother, FINNEAS, is a singer-songwriter, record producer, audio engineer, and actor. Her brother and mother inspired her to get into music, nearly every song that Billie has released, her brother has co-written. With FINNEAS being 24 and Billie about to be 20 years old, FINNEAS has been a big influence on Billie. Billie even introduced FINNEAS at a concert as "my big brother and my best friend." Billie has been writing music since she was 11 years old and was even a member of the Los Angeles Children's Choir. With this being given, it proves that Billie has loved music since she was very young.
Billie has won numerous awards for the quality, relativity, videography production and just overall her wonderful music. She has won seven Grammy Awards, two American Music Awards, two MTV Europe Music Awards, one BRIT Award, three MTV Video Music Awards, and an NRJ Music Award. Not only that, but during her career, Billie has earned two Guinness World Records.
On July 30th, 2021, Eilish (always address by last name after introducing them one time)  came out with her new album, "Happier Than Ever." The album was released 2 years after her previous album, "When We All Fall Asleep, Where Do We Go?" which was released on March 29, 2019. This album showcased many of Eilish's emotions from how she felt emotionally to how she felt about others' perception of her. 
This new album has a variety of different melodies and has a different impact on the audience at the end of every individual song. For example, the first song of the album, "Getting Older," is about her being appreciative of things she has and realizing so much about this new image of herself. This song has a fast pace instrumental, while her voice is soothing, slow, and partly melancholy. Within the song, she leaves the impression of how she felt that her fans or how she phrased it, as " strangers wanted her more than anyone before." Additionally, in one of the lyrics she says, "things I once enjoyed, just keep me employed, things I'm longing for, someday, I'll be bored of," this possibly foreshadows that she is getting bored of what is in store for her in the future. Things such as materialistic things, her lifestyle or even making music as a whole. 
 On the other hand, track 6 of the album, "GOLDWING", has an angelic acapella introduction that lasts for a minute, then it transitions into this upbeat poetic type of song. In which it is, the intro of the song was inspired by a verse from an ancient Hindu poem that was translated by an English composer Gustav Holst in 1907.  Most of the album switches tempos back and forth, from slow to upbeat. The second verse of this song says, "they're gonna tell you what you wanna hear, then they're gonna disappear, gonna claim you like a souvenir, just to sell you in a year." The song was not explained by the music company GENIUS, so this song might just be things that Billie needed to say, without saying it to anyone personally.  This song is two minutes and thirty-two seconds, yet there is only an intro, two verses and a chorus, and two lines as an outro. The song becomes long due to the pronunciation of Billie's words, she elongates them and there is an instrumental break throughout the song. 
The featured and most trending song on the album is, "Happier Than Ever," which changes tempos halfway through the song. This song talks about exactly what the title explains, that when she is away from this person she is happier without them, how the relationship wasn't so great, and the downs of it. At the beginning of the song, there is a slow beat connecting with her soft voice. Then, progressively gets to a faster pace changing the emotion of the song to soft rock or rage, which expresses her frustration and anger. Some lyrics from this song would be "When I'm away from you, I'm happier than ever…I wish it weren't true/you clearly weren't aware that you made me miserable/I don't relate to you…you made me hate this city/all that you did was make me f*******' sad…" 
This album showed Billies true emotions she was feeling, even though many of her songs are this way, certain songs on this album went more in depth with those emotions. Songs like "Getting Older", "I Didn't Change My Number", "Not My Responsibility", "Your Power", and "Happier Than Ever", showed the most emotion and internal emotions. Overall, many of the fans can relate to Billie's emotions, especially when she talks about feeling alone. This would be due to the fact that we all have been alone for almost two years because of COVID-19. Relating to the audience is what Billie does best!
Leave a Comment
About the Contributor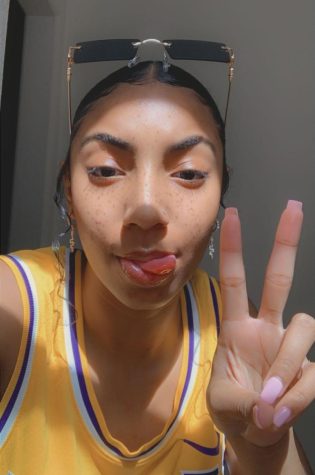 Yanni C., Photo Editor
Hola, I am Ti'yanni Commodore, a Grizzly Growlers Photo Editor and staff writer, I have been on the staff for two years. You can find me writing in every category, especially news!I have a column called Yanni Wonders is under! With being photographer and photo editor, I would love to see the (school appropriate) photos and/or story recommendations you have, so please feel free to email me! I am a HOPE Squad member, Sports Photographer, Football Manager, apart of the Pacific Islanders club, IB Student, and a Trial By Peers Attorney.

If you see me around the school let me know if you need anything or just say hi! <3