First Year Fears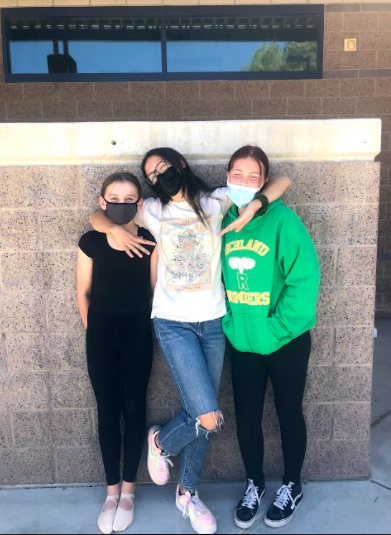 What characteristics do 7th graders show? Middle school students have the reputation of being considered cringeworthy and annoying. They run through the halls for no apparent reason, and yell random things in the back of the bus. For this year's freshmen, 7th grade marked the last time they were in school. This big leap has differed greatly from freshman of the past. Anxiety about shutting down again, losing friends, and hopes for a high school experience are on the mind of this year's freshmen students.
"I'm super scared about school shutting down because I want to have a full four years of high school in person. I'm super done with online and wouldn't go back if someone paid me," Freshmen Liliana Reagh said.
Students say they have worries that school is going to be shut down. The fear of COVID cases rising or the new variant causing chaos plaques the minds of students.  People say the high school experience is supposed to be the best time of your life; students are supposed to look forward to football games and dances instead of dealing with a google meet crashing and the flashing of "11:59" every night.
"Missing that time took a big toll on me socially, it's been tough getting back to my comfortable speaking skills," said Marti Smith, an IB freshmen. For many students, including Smith, the online school year had detrimental effects on the way they tackle a new social setting. 
"It was harder to see my friends and I lost them because we wouldn't talk or see each other," Freshman Berkley Christopher stated. 
Students said that many friendships were destroyed due to the year apart. Students couldn't interact like they're familiar with. Contrary to the stereotype that this generation only likes texting, students said they still need to communicate and hang out with their friends to uphold relationships. However, this online year has provided some interesting perspectives on how students want to live their lives. 
"I was never super social, but it made me realize that I want more friends,"  Freshman Maryjane Mills said. 
After a time where physical interaction was scarce, teens—specifically freshmen—are starving for relationships. Freshmen may have moved away from their friends, especially with Spring Valley being a magnet program school. IB Students come from Fertitta, Faiss, Johnson, and all over the district rather than feeding into a zoned high school with the rest of their peers.
Students say they think they have some catching up to do. Not only in the world of academics, but socially. The next four years will be undoubtedly bumpy, but freshmen still have high hopes.
"I'm so excited for high school football games and pep rallies," JV cheerleader Liliana Reagh said. Reagh hopes that the season will continue like normal so that she can cheer on our football players and eventually compete in a cheer competition.
The class of 2025 has a unique experience that was placed smack dab in the middle of their education. A transition period between middle and high school was stolen and wavering circumstances determine the next few years of what's supposed to be "golden years." The full effects are still to be seen. We're in the midst of unprecedented times, after all.
Leave a Comment
About the Contributor
Audrey O'Donnell, Entertainment Editor
Hello! I'm Audrey! I'm an IB junior and entertainment editor of our very own Grizzly Growler. This is my third year on the staff and I've previously been an opinion editor. I've loved writing my entire life and have tried everything, from writing a short fiction novelette to news writing right here :)