CCSD is back in-person; students share their opinions.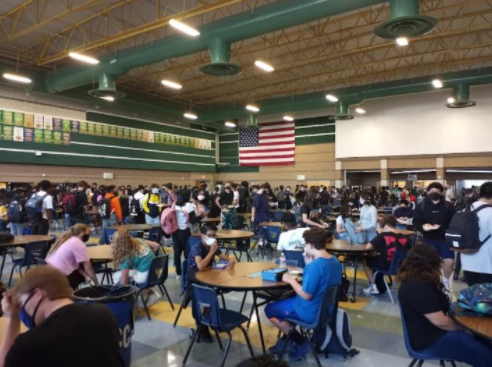 With students returning to in-person school for the 2021-2022 school year, what comes along with them is the worry of keeping all students safe and contaminating the spread of COVID-19 to not return to a virtual year.
The Clark County School District is approaching the one month anniversary of students' return to school, and with the return comes concerns and optimism about the COVID-19 pandemic and its' effect on school life.
"I'm really excited to be back at school and see all the teachers and all the people in my classes," sophomore Kathryne Echols said. 
A survey conducted on the Grizzly Growler Instagram asked students about how they felt about being back at school. 77% said they were excited to be back while the remaining 23% they weren't so sure.
"Learning through the computer wasn't working for me," junior Daixa Rodriguez said. "Being able to be taught face-to-face… it gives me a better understanding,"
Rodriguez's concerns are backed up by grading figures provided by the District. According to a Las Vegas Review-Journal opinion piece by Victor Joecks, nearly 40% – 2 in 5 – of CCSD Students received at least one F during the 2020-2021 school year. A district spokesperson told the Review-Journal, "We have long acknowledged that there will be learning loss and an impact on students' grades and assessments,"
"It's very important to be back. I did not have a good time, at all, with online learning: grades fell, mental health fell, a lot, and it's kind of rising back up with regular school being back," Duddy said.
Despite the COVID guidelines, Duddy is confident that CCSD will continue to educate students in-person and on campus. "I don't think they feasibly shut down again. They know that last year messed everyone up, and I don't think they want to go back to online school, both admin and students, and definitely teachers."
"The one way hallway… it just didn't really work," junior Roxane Duddy said.  
The return also comes with a host of guidelines set forth by the District, including a mask requirement, contract-tracing QR codes, and, attempts at social distancing. One of the attempts at social distancing was implementing one-way hallway policies, which were quickly removed. 
"Contact tracing is important, and I think the QR codes at the table was a good idea," Junior Daixa Rodriguez concurred, saying "I was very surprised [about the contact tracing]. Somebody had sat with me at my table at lunch and they did catch COVID… and I was able to be notified to go get tested to be safe for me and my family,"
However, other guidelines were extremely helpful, such as the QR codes for contact tracing.
"All of the guidelines we have make sense are are there for a reason that makes sense,"
While students may find it tedious to fill out a form whenever they sit down to have lunch, or fill a corridor pass to use the bathroom, the purpose is to effectively and securely prevent further spread of the COVID-19. 
Though, there still is a need for more Personal Protective Equipment (PPE) and supplies to keep schools as clean as possible. "Half of the times, hand sanitizer is out and mostly [we] just need more of it, Duddy said. 
"Not everybody cares about everybody else, people who don't wear their masks… It's just scary because there's people who don't care and people who do really care. The people who don't care will mess it up for everyone else," Rodriguez said.
Leave a Comment
About the Contributor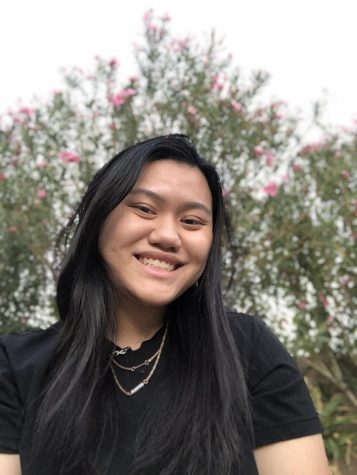 Jessica Bui, Infographic Editor
Hey friends! My name is Jessica Bui, and I'm the current Infographic Editor for the Grizzly Growler. This is my fourth year writing for the paper and being a part of the Growler staff. You can also find my writing in the news, opinion and entertainment sections of the website and paper, but I do stuff around campus like Key Club and Hope Squad, for some variety.

Often times you'll find me posting on the Instagram @thegrizzlygrowlersv!

Fun fact: I designed the logo you're seeing on the top of the screen!