New Horizons: Teachers Prepare to Say Goodbye
Teachers prepare to say goodbye to Larnerd following his announcement to retire at the end of this school year.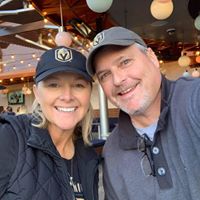 Principal Tam Larnerd announced his plan to retire in May, marking the end of his seven-year term at Spring Valley. This put his retirement two and a half years ahead of his planned date after Superintendent Jesus Jara offered to "buy out" his contract. 
Larnerd is one of many school faculty members across the district to retire early as the result of buy-outs. This is made possible because of the "Public Employees Retirement Service," which gives teachers and administrators a pension after working for 30 years.
 "I really had every intention to continue to work until December 2023," Larnerd said. "However, Superintendent Jara, in order to cut costs in the long term, has offered to buy two years of credit in our pension program. … It is very expensive to buy time in the system, but over the course of two to three years, CCSD will recoup their investment and start saving money.  This is the end of my 27th year, and CCSD employees need 30 years of credit to start receiving their pension. I have purchased an additional year with my own funds to get myself to 28 after this year."
The announcement came as a shock to school faculty, all of whom enjoyed working with Larnerd, but it was ultimately met with support. 
"He really did value his relationships on campus, and it was evident in the way he treated you," said English department head Deborah Whitt. "I always felt appreciated by him and validated, and that's one of the things … I really do recognize." 
Larnerd started teaching at Basic High School when he was 25, and he worked as a health educator, on the student council and as a soccer coach. He had initially worked as a radio and wedding DJ, but he said that he was excited to get into education.
"One of my motivating factors to transition from teaching to administrators, was my frustration with a few of my colleagues who were completely 'phoning it in' and making no effort to provide quality instruction," Larnerd said. "I kept thinking, 'If I were their boss, I wouldn't tolerate it.'"
Larnerd started working at Spring Valley in 2014, becoming the school's second-ever principal. During his tenure, he implemented the International Baccalaureate Program and grew the AVID and Career Tech programs. Larnerd said that one of his favorite programs is the Navy JROTC, which he decided to start after a student approached him to ask for it. 
"Finally, we have grown from 1,779 students in 2014 to nearly 2,600 for the current school year," Larnerd said. "As we've grown, I've needed to hire new teachers and I think that has always been one of my strengths as a principal. I've got a good picker! One of the most important things I do is hire. My goal is always to hire the best and support them in any way I can."
Teachers have also expressed their appreciation for Larnerd's support. For Whitt, his support came in the form of inclusivity, and she said that he "elevated people" and granted opportunities to teachers. As for math department chair Michael Bucher, he said that he appreciated how Larnerd helped promote his transition into leadership roles and how Larnerd gave him the "chance" to work and grow at the school. 
"His 'open-door' policy always made it easy to talk to him about anything [and] everything," Bucher said. "Have a question? He'd answer it. Need something for your classroom [or] department? He'd get it for you. … I also appreciated his willingness to celebrate those around him. If you earned some sort of accomplishment he was the first to congratulate you and if he saw an opportunity to recognize you for something, he would."
 It's still uncertain how Spring Valley will change after Larnerd's departure. Jara will ultimately decide who the next principal is, but three to five of the best candidates will first interview with the School Organizational Team, according to Larnerd. This means that Spring Valley teachers and parents will have a voice in the matter. 
As for what teachers are hoping to find in a new principal, Whitt said that she's looking for someone who can think critically and creatively, who can accept criticism and navigate relationships, and who will work collaboratively to come up with numerous solutions to any problems that present themselves. Bucher said that he's hoping to have someone who retains the same level of support that Larnerd gave.
 "Hopefully, what they see is a strong, working, collaborative group of dedicated teachers who are also open to innovative and new ideas as long as it benefits our kids in the long run," Whitt said. 
While neither Whitt nor Bucher is fully confident that a new principal will immediately change anything, they both said that they're mainly hoping that whoever steps into the role will continue trying to improve the school in whatever form that takes. 
While they both agree that many teachers are excited for Larnerd's new opportunities, Whitt said that she'll miss his sense of "play," such as when he would dress up as Elvis to sing her happy birthday each year. 
"I think his energy and his sense of commitment and knowing that he was walking the halls and he could pop in at any time," Whitt said. "You could really feel his sense of dedication to his profession––it was palpable. Despite the humor, you knew he was a serious guy, a nice combination." 
Larnerd said that he finds leadership in the "sustainability" of the programs he implements, with the longevity of his programs extending beyond his time in the building. 
 "The lessons that people teach us remain with us for a lifetime if they're authentic, so there's some things I won't forget that he taught me, and I'll take those with me," Whitt said. "It's going to inform how I work in the future. I'm always hopeful for the future. I know we've got a lot of challenges ahead of us … but I would also hope that in that journey, we don't lose sight of the things that are really important. Love, family friendships, health––those are essential too."