Jake Paul versus Ben Askren: our tell of the tape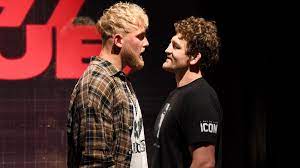 Jake Paul has turned many necks with his talent in boxing. After knocking out Nate Robinson, the world is eager to see what else he has up his sleeve. Paul has been in three fights, victorious in all of them. After the last fight, Paul called out MMA fighters like Connor McGregor, Nate Diaz and Ben Askren. Askren (a Bellator champion and two time NCAA wrestling champion) took the fight. The fight date is set for April 17, 2021. 
Paul and Askren have taken over social media for months now. Askren has taken the more humble route because he does not specialize in boxing. In UFC, Askren had a wrestling-dominant fighting style. When Askren had faced a boxer like Jorge Masvidal, Askren knocked out in 6 seconds. Askren retired 19-1 as his UFC record. 
Paul has shown tremendous progress between fights but has not fully shown his athletic ability against an actual boxer. Paul has fought two social media influencers and an former NBA player. He has not been able to showcase his true talents against a professional fighter. Paul claims to be one of the best boxers and eventually wants to fight Floyd Mayweather. After offering Conor McGregor 50 million dollars, McGregor denied and worried about his UFC fights.
Between them both they have participated in numerous press conferences selling the fight. The fight takes place in the Mercedes-Benz Stadium in Atlanta, Georgia. The predictions for the fight will do two million PPV buys at $50  each. Paul and Askren have both stated they will be making over seven million dollars for this fight. 
This fight will be interesting because of the attention it is receiving. Both fighters are well balanced and the fighting odds are not a drastic difference. According to OddsShark.com, the percent out of all bets, 62.96 is favoring Paul. Meaning you'd have to bet 170 dollars to receive 100 dollars profit for Paul. and a 100 dollar bet would profit you 140 for Askren. Should Askren be the underdog? Is Paul ready for real professional competition? We will find out April 17, 2021.