Introducing HER: History, Education & Representation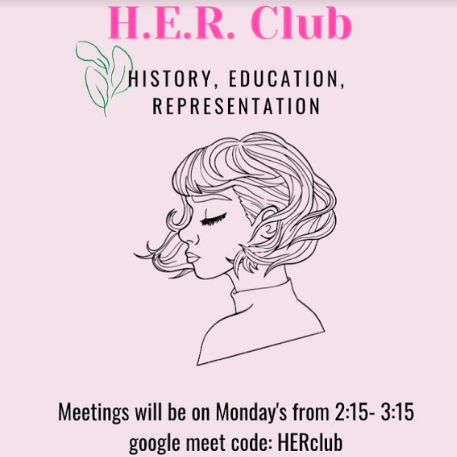 March 8 was International Women's day, and it just so happened to be the commencement of Spring Valley's newest club H.E.R, which stands for history, education and representation. H.E.R meets every Monday at 2.15 pm. Juniors Lizzy Tokarski and Jordan Braud are the creators and presidents of H.E.R.
H.E.R aims to spread awareness and is a safe space to discuss issues surrounding women. The discussions are not usually found within the school curriculum.
"The idea that led me to H.E.R was the way women were treated in society," Braud said. "We are often pushed to the side, overlooked, some see us as objects, and women's history just isn't taught enough in schools."
  After working together and having their idea set in place, Tokarski and Braud reached out to their sophomore English teacher, and now H.E.R advisor Nicole Thompson, who has created a safe space for them. 
 "My two presidents brought the idea to me and they're like, 'We think this would be a great club,' and instantly I could not wait to get it started, because the way they pitched it, it just sounded like something Spring Valley needed to have," Thompson said. 
Thompson focuses on the importance of supporting students with guidance and advice.  She allows awkward silence in the midst of conversations for ideas to settle in and allows  students to take control of conversations.
"When these topics come up in the classroom, it's dominated by a teacher who wants a specific narrative to be said," said Thompson. "And this club is about giving that space for students to have their own narratives and have their version of the discussion that doesn't always happen in the classroom."
H.E.R educates on women's ongoing and past role in history. At this week's H.E.R meeting the club discussed Shirley Chisholm, who was the first black woman to be elected to the United States Congress in 1968. H.E.R has also explored and discussed issues such as normalized harmful perceptions of women in society and sexual assault by discussing the Netflix original movie "Moxie." The movie follows a high school feminist movement. 
"I think H.E.R will work to make up for topics and people we don't usually cover in history by focusing on women, and specifically women of color, when looking into people and topics that we want to discuss," said Tokarski. 
Due to the COVID-19 pandemic, clubs have had to adapt in how they hold their meetings and activities. There are significant hopes for the future of H.E.R, especially for the eventual return to in-person meetings and school. 
"I want to see it grow and bloom and become a multi school club," Thompson said. "We've already talked about getting clubs that started at other schools with friends of people in the club." 
In the future, H.E.R wants to help fundraise for women's shelters and for victims of sexual assault. In April the club will focus on topics such as sexual assault, self defense and bringing recognition to the problems that women experience in the workplace. 
For upcoming meetings, Tokarski shared that the conversations she wants to see the club have is women's physical and mental health, women's safety and advocating for a variety of issues affecting the world. 
"My hopes and goals for H.E.R are to hopefully next year be able to do things like 'Walk a mile in her shoes,' where guys walk a mile around the track to spread awareness for sexual assault," Braud said. 
Thompson shared that H.E.R gives students a space to vent, have their opinions validated and have the ability to express themselves to other people with confidence that they are not alone in their thinking and opinions. 
"I hope it takes off, and becomes a permanent club at Spring Valley that is carried on for decades and decades after we've all moved on," Thompson said.