Another Virus Called Racism
As COVID-19 cases were on the rise during the pandemic, another contagious condition followed it — a 1,900% increase in Anti-Asian American hate, according to Stop Asian American and Pacific Islanders (AAPI) Hate.

Stop AAPI Hate Reporting Center is an organization that tracks incidents of discrimination, hate, and xenophobia against Asian Americans and Pacific Islanders in the United States. The organization bases its data off of self-reports on their website. The form can be filled out by those who don't speak English, with report forms offered in other languages including Vietnamese and Tagalog, etc.
The organization was created in March 2020, months after the first known infections of the novel COVID-19 virus appeared. After it was reported that the infection originated in Wuhan, China, reports of f violent and xenophobic rhetoric skyrocketed, blaming  COVID-19 on Asian Americans.
"I've been told to 'go back to your country,' and 'you don't belong here.' I've been… laughed at and told to do 'Asian things,'" senior Brysen Mortensen said of his experiences.
Along with the growth of COVID cases, came an influx of aggression towards Asian Americans. Concerns over the origin led others to believe that those who were of Asian descent carried the disease, and were ultimately the reason why the virus started. Offensive terms, such as the 'Kung Flu,' or the 'Chinese Virus,' were even adopted by former President Donald Trump, which caused others to blame China for the virus. This blame ultimately shifted to Asian people, making them one of the centers of the COVID conversation.
"Although.. it started in Asia, it's not justifiable to mistreat Asians in belief [that] they all have the deadly illness," sophomore Andy Hang said.
Many issues regarding race related hate or violence have been picked up by mainstream media as early as 2020, but none of these are 'new,' and Anti-Asian racism is no exception. 
"I feel small because I have very little impact on how to prevent these crimes from happening at all," freshman Dylan Kim said. 
Between March 19 and Dec. 31, 2020, Stop AAPI Hate noted that physical assaults made up 8.7% of incidents, with coughing/spitting on which comprised 6.4%. Verbal harassment made up 70.9% of incidents.
Anti-Asian racism, and racism in general, is mostly seen and thought of in the form of microaggressions. Microaggressions aren't the only form of racism against Asian Americans, but as the name states, seems less outwardly racist or aggressive, and make up a majority of hate crimes.
While microaggressions aren't the only form of racism, it's what generally what the public consumes or media produces the most, as it is more common and less striking to hear about.
Microaggression is the term used to label brief verbal, behavioral, or environmental insults. Whether intentional or unintentional, it communicates hostility and implies derogatory or negative attitudes toward stigmatized or culturally marginalized groups. A common example of this is calling Asians 'bat-eaters,' verbal harassment and a derogatory term used to blame them for the pandemic.
"Asians are often mocked and bullied amongst other races. It's downright inhumane and just so unnecessary," Hang said.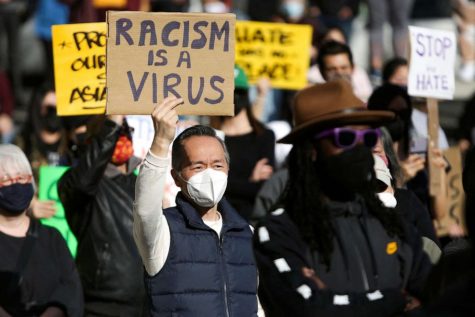 According to The Guardian, black and Asian Americans were most likely to report being directed racist slurs than their white and Hispanic equals. At 31%, Asian respondents described being the target of racial slurs, compared with 21% of African Americans, 15% of Latinos, and just 8% of white people.
"Racism and hate towards Asian-Americans [are] so normalized. I rarely see the media talk about Asian-Americans at all," Kim said. "All my life, people have shrugged off our struggles and don't see a problem."
Scrolling on social media, many say that they have a hard time finding news about the Asian community from sources that aren't Asian-central. The idea that nothing important happens to the Asian community can stem from the model minority myth. 
The model minority myth perpetuates the idea that Asian Americans are law-abiding citizens who achieve higher levels of success by working harder than other minorities, when it's a strategy used  to pit people of color against each other. While this myth sounds like a good thing, it invalidates any racism against Asian Americans, as well as puts pressure on the Asian diaspora to act a certain way, as Learning For Justice phrases.  It suggests that by overcoming past 'difficulties,' that one can achieve high status, especially a non-white person. The myth puts people of color against one another and develops a hierarchy, which diverts any attempt towards liberation for all people of color.
"I feel small because I have very little impact on how to prevent these crimes from happening at all," Kim said. 
During a single week in February: a 91-year-old man in Oakland Chinatown was brutally attacked. A Thai man was assailed and killed in San Francisco, and a Vietnamese woman was assaulted and robbed of $1,000 in San Jose. Not to mention the deaths of eight people in a shooting due to an Anti-Asian bias, but the shooter was having a "bad day," according to Cherokee County Sheriff's spokesman.
"This is why I feel rage," Hang said. 
Leave a Comment
About the Contributor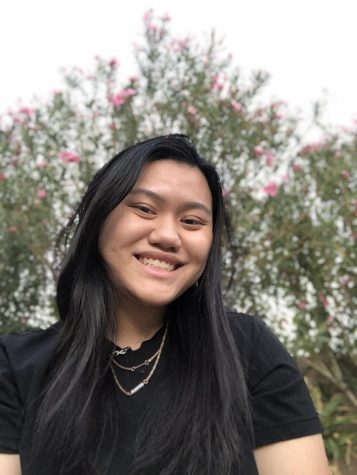 Jessica Bui, Infographic Editor
Hey friends! My name is Jessica Bui, and I'm the current Infographic Editor for the Grizzly Growler. This is my fourth year writing for the paper and being a part of the Growler staff. You can also find my writing in the news, opinion and entertainment sections of the website and paper, but I do stuff around campus like Key Club and Hope Squad, for some variety.

Often times you'll find me posting on the Instagram @thegrizzlygrowlersv!

Fun fact: I designed the logo you're seeing on the top of the screen!