Windows 10X: Microsoft's answer to Chrome OS
Just ten days ago, macOS ceased to be the world's second-most popular operating system as it was overtaken by Chrome OS with 10.7% market share.
Even though Microsoft's venerable Windows lineup still holds a commanding 80.5% market share, Chrome OS and its low-cost, low-spec Chromebook machines are on the rise. While Microsoft has been doubling down on continuing to innovate Windows 10 for personal computers, it finally has its own answer to its new lightweight Linux-based competitor: Windows 10X.
Available first through insider leaks and then officially to Microsoft Insider Program developers through an emulator in the Microsoft Store, Windows 10X brings a fresh perspective to a lightweight version of Windows that we haven't seen in a while.
While Windows 8 and 8.1 were aimed at low-spec laptops and convertible tablets, they were a relative failure. The Windows Metro user interface just wasn't good enough, and Microsoft tried to please everyone but instead ended up failing on all fronts. The new plan: giving people an option.
Initial Look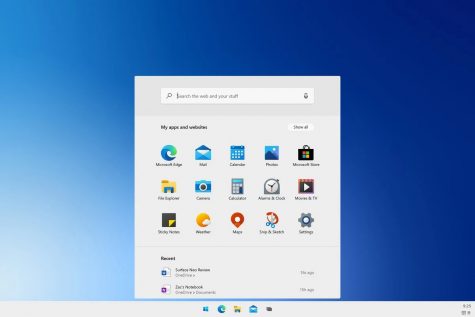 While the OS still retains the font and colors of Windows 10's light theme, the classic start menu is gone and has been replaced with a tasteful and minimalistic launcher. The launcher displays essential Windows apps, such as Microsoft Edge, Outlook, Calendar, Photos, Microsoft Store, File Explorer, and Settings. The taskbar also contains a small number of apps.
The classic Action Center is replaced by a more mobile and compact floating menu, with notifications and brightness level at first sight. The Settings app is pretty much the same as the one in standard Windows 10.
Final Verdict
Stylistically, the user interface and layout are very similar to that of Chrome OS, but that's the point. Windows 10X expresses itself as a simple but modern OS in a time where portability, user friendliness, and low-end laptops rule.
Coming in at just over 7 GB, Windows 10X would fit perfectly into a machine with 32GB or 64GB of eMMC (flash) storage. Hewlett-Packard tried cramming Windows 10's 15 GB partition size into its Stream laptop series, which only featured 32 GB and 64 GB of storage. It failed miserably due to Windows 10's hardware requirements, and as a result the HP Stream is one of the slowest budget laptops on the market today. 
This is where Windows 10X comes in. Its portability would be perfect for a new sub-$300 11.6" Microsoft Surface laptop, since the Surface line has basically become a competitor to Apple's Mac products with its fancy thin laptops featuring $500+ price tags.
Microsoft has a chance to start its own budget Chromebook-esque line and not leave traditional Windows PC enthusiasts in the dust, and they can do just that with Windows 10X.