Picks of the week: Super Bowl Sunday
More stories from Derek Raridon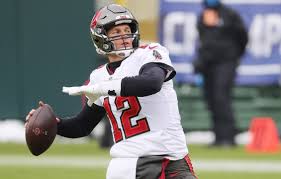 Championship weekend was not kind to head varsity football coach Marcus Teal, assistant varsity football coach Robert Cutts, athletic director William Hemberger, principal Tam Larnerd, and the grizzly community.
Teal, Cutts, and the community all went 1-1 last week, all guessing the Tampa Bay Buccaneers and Green Bay Packers game incorrectly. However, Hemberger and Larnerd had it the worst last week as they went 0-2.
This season brought many surprises, from rookies starting their careers with impressive numbers to older players and teams making their case to fear them when people thought they were not that worthwhile. While the Chiefs and the Buccaneers prepare for their matchup this week, many fans and personalities have been discussing who to watch out for in the 2021 season.
"Jalen Hurts is going to be my standout for next season," Hemberger said. "Even though he showed glimpses of it this season, with Carson Wentz to CHI, Hurts is going to be similar to Lamar Jackson's MVP season (especially in the NFC East)."
Who will win Super Bowl 55?
Larnerd: Chiefs  38-21
Hemberger: Chiefs
Grizzly Community: 53% in favor of the Chiefs
Writer's Opinion: The Chiefs have a serious problem in losing their other starting offensive tackle last week versus the Bills. The Bucs have the morale and the momentum going into this game, and that will be the deciding factor in this game.
Bucs win 31-21
Which position player will have the most yards?
Larnerd: Kelce, 123 yards, 2 TD's
Hemberger: Travis Kelce – 11 catches 145 yards – 1 TD
Grizzly Community: 36.6% in favor of Buccaneers wide receiver Mike Evans
Writer's Opinion: Tom Brady has had one trick up his sleeve that nobody is talking about. Tight End Rob Gronkowsi has been with Brady through his last two Super Bowls and has helped secure the win in both of them. This year will be no different.
Gronk will have 136 yards with 1 touchdown.
Which team will cause the most turnovers?
Larnerd: Chiefs (2 picks, 1 FF)
Hemberger: Chiefs D will cause the most turnovers
Grizzly Community: 50% tie between the Chiefs and the Buccaneers
Writer's Opinion: The reason the Chiefs have done as good as they have this season is because the Chiefs have Patrick Mahomes and his positional player crew. Taking down Aaron Rodgers is more impressive than Josh Allen.
The Bucs will have more turnovers with one interception and two forced fumbles
Who will be Super Bowl MVP?
Larnerd: Mahomes
Hemberger: Patrick Mahomes
Grizzly Community: 67.6% in favor of Tom Brady
Writer's Opinion: While Mahomes is set to be the greatest player in the league within the next 2 years (if he isn't already), Brady is named the greatest of all time for a reason. The G.O.A.T will do more than what people think he will do and earn his fifth Super Bowl MVP.
Leave a Comment