Picks of the week: Divisional round
More stories from Derek Raridon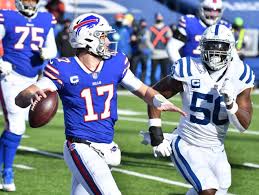 Super wild card weekend was definitely wild for head varsity football coach Marcus Teal, assistant varsity football coach Robert Cutts, athletic director William Hemberger, principal Tam Larnerd, and the grizzly community.
The community got one up on our experts last week as they led the pack with a 5-1 record. Cutts and Hemberger were just behind with 4-2 records, and Teal and Larnerd rounded out the bottom with 3-3 records.
Last week brought many close games, with the New Orleans Saints vs Chicago Bears game being the only one without a close score in its duration. Despite there being four more games this weekend, many fans have been debating on which game was the most entertaining with mixed results coming from each discussion.
"Man there were some fun games last weekend, but my favorite was by far the Browns game," Cutts said. "You can't help but root for those guys."
Rams @ Packers
Teal: "I like the Pack!  It's gonna be cold and the Packers are pretty good at home, in the cold!"  Packers 31, Rams 24
Cutts: "Cold weather game with some lingering injuries spells bad news for the Rams."
Packers win 34-21
Larnerd: Packers
Hemberger: Packers
Grizzly Community: 71 % in favor of the Packes
Ravens @ Bills
Teal: "I like the Bills!  Bills are on a mission! Ravens not used to cold weather games, Bills find a way to shut down a hot LJ!"
Bills 27, Ravens 24
Cutts: "No one circles the wagon like the Buffalo Bills." 
Bills win 28-24.
Larnerd: Bills
Hemberger: Bills
Grizzly Community: 53% in favor of the Ravens
Browns @ Chiefs
Teal: "I like the Chiefs!  Chiefs are unstoppable after a bye week, Browns good feelings run out" in KC!" 
Chiefs 34, Browns 30
Cutts: "Chiefs after a bye are pretty dominant but the Browns did prove me wrong last week". Chiefs win 31-28
Larnerd: Chiefs
Hemberger: Chiefs
Grizzly Community: 62% in favor of the Chiefs
Buccaneers @ Saints
Teal: "I like the Saints!  Bucs ol' man is running on fumes, Saints ol' man is starting to heat up and wants to go out on top.  40+ year old QBs are gonna put on a show!"
Saints 34, Bucs 30 
Cutts: "Saints [will] go 3-0 against Brady this year." 
Saints win 35-21
Larnerd: Bucs
Hemberger: Buccaneers
Grizzly Community: 74% in favor of the Saints
Leave a Comment