Netflix's "Enola Holmes" is Strange — But Surprisingly Good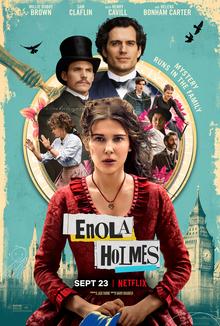 The family mystery movie "Enola Holmes" proved to be very successful, with a cast full of stars and a plot surrounding one of the most notorious fictional characters in history. This success is also a turning point for how films will be released, with its rights being sold to Netflix and released virtually rather than its originally planned theater release with Warner Bros. 
The movie follows a young ingenue named Enola, the teenage sister of internationally renowned detective Sherlock Holmes. Her mother suddenly disappears, and she sets off on a mission to find her, helping a runaway lord and learning more about herself and the world around her along the way. 
The movie's plot, albeit slightly slow paced at times, was full of intelligent explanations and clues that successfully satisfy the expectations of audiences expecting another great Holmes mystery. An important theme throughout the film is family, as Enola longs for her mother, and her older brothers begin to get to know her better. Although these scenes can tend to be cheesy at times, they never fail to deliver real emotions, and their child-like nature is actually what makes them seem so applicable to all who watch them. 
The acting within the movie is phenomenal and is undoubtedly a major factor in the success of its very unique elements. The titular character is portrayed by Millie Bobby Brown, who rose to fame with her role as Eleven in the Netflix Original show "Stranger Things." Although it was clear that Brown had a lot of potential from the minute she was shown on screen, she has grown a lot older since the show began, and this gave her a chance to emerge on her own as a young woman. Not only did the movie provide her a jump in her acting career, but Brown actually took this opportunity to try her hand at producing for the first time, with a company she created with her older sister. Supporting actors such as Henry Cavill (Sherlock Holmes), Sam Claflin (Mycroft Holmes), Helena Bonham Carter (Eudoria Holmes) and Louis Partridge (Viscount Tewkesbury) were each stars in their own element, and there was no evident weak link. 
One of the most distinct directorial choices of the film was Enola breaking the fourth wall and speaking directly into the camera, often explaining context to the audience or asking them for advice. Although at first glance, one can't help but be reminded of a more mature Dora the Explorer, this works surprisingly well in immediately drawing in audiences to Enola's character and providing the overarching sense of dysfunctionality within her family. This sensation gave the general feeling of strangeness yet not unpleasantness, which can be applied to most of the movie. 
Although the humor and stylistic choices give the impression that the movie is targeted toward younger audiences, there are some indisputably profound scenes and messages. It deals with issues such as fractures within familial relations, the privileged having the opportunity to turn their cheek to politics, feminism and the progression of newer generations in society and more. In fact, its release now seems like no accident, and one can draw many parallels to the political climate of America today. 
The movie's greatest accomplishment was its delicate balance of tones that kept audiences interested, with an even mix of family, romance, action, mystery and more. This is precisely what makes it so difficult to describe — whether it's for children or adults, whether it was silly or smart, and so many other things. The simple answer is that it's all of it and more, and it's full of anomalies and oxymorons, which leads back to its ultimate and unshakeable impression: strange yet never unpleasant.