The Holoholo Challenge revives school-wide events during online learning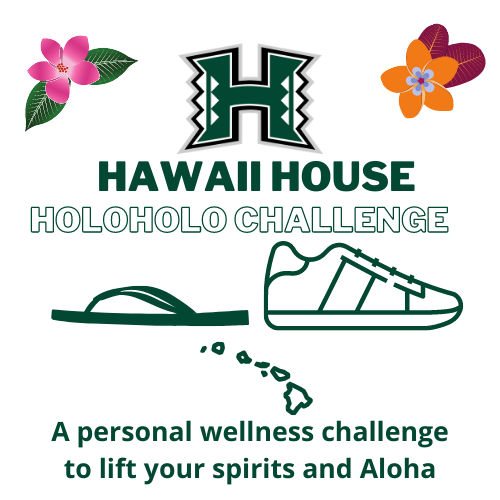 Going to school online means students are spending more time in front of the screen and less time outdoors. The Holoholo challenge encourages students to get outside and complete one mile of cardio-based activities every day for eight weeks. 
Benjamin Feinstein, the 10th grade house administrator, and a team of sophomores through seniors have been working together to develop the concept of the challenge. Since the 10th grade house office is represented by the University of Hawai'i, the Holoholo challenge is also focusing on one island of the Hawaiian archipelago every week to teach students about the culture. 
"The Holoholo challenge is an opportunity for everyone to get away from their computers and be active and healthy," Feinstein said. "The main inspiration was the fact that we are all spending way too much time in front of a screen. An active lifestyle is healthier. We want everyone to be able to relieve their stress and the stress of our situation, and this is a great way to do it."
Participating students are expected to fill out a weekly form documenting their weekly mile totals for the activities they completed. The challenge started on Sept. 21, but this school-wide event can be joined at any time. The form to log miles is sent out every week via Gmail. 
Those who log 56 miles or more (one a day over eight weeks) will earn a named spot on boards throughout the school building. The grade level with the most amount of miles logged will win a golden pair of flip flops to be displayed in their house office. 
"We have been cut off from so much because of our situation — socially, emotionally, physically and many other ways," Feinstein said. "Physical health is crucial right now for many reasons — it is tied to emotional health, psychological health, emotional health and overall wellness. Everyone needs to be paying attention to this, now more than ever."
Students are seeing the physical and mental benefits of the exercises they complete for the challenge. Senior Mahdote Abebe Moges is finding results she never expected. 
"I believe [the Holoholo challenge is] a great way to get active and stay fit," Moges said. "We are on our screen and in our rooms all day, so this benefits us greatly. It gives us a chance to take a break from work and gives us an opportunity to clear our minds and get fresh air. … After working on homework all day, I needed to clear my mind, and it was also a great opportunity for me to bond with my mother more."
Moges is also part of the planning committee that put the event together. She's found that being in charge of something has helped her leadership skills. 
"Planning a school-wide event has helped me grow my leadership skills," Moges said. "I learned how to think about others and how there are so many factors in planning an event. It takes up some time, so I have to learn how to time manage, and this is a skill I will need in college."
For Freshman Marco Hillers, Holoholo is the first school-wide event he is participating in as a high schooler. He appreciates the event for the sense of normalcy it gives him. 
"It's pretty good to know that I'm still getting a fairly similar high school experience during quarantine," Hillers said. "I've met new people and get to go outside more than I used to." 
Feinstein is hoping to make the Holoholo Challenge an annual event even after school comes back. Students may agree that the online format still doesn't compensate for the lack of face-to-face interaction. 
"I think [the Holoholo Challenge] is a lot easier this way, but I still wish I could interact with the other people who are participating," Hillers said.
Leave a Comment