With Their Win Over The Nuggets, The Lakers Are The Frontrunners For The Title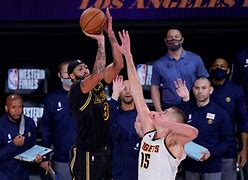 With the NBA finals currently underway, any true NBA fan would marvel at how this year's playoffs went. For the Los Angeles Lakers, the journey to this year's NBA Finals is a little bit personal due to the loss of Kobe and Gigi Bryant. 
The Lakers have been stellar these playoffs, only losing three times in their past 16 games. With the toughness of the Western Conference, no one was expecting for the Lakers to play as well as they have. With Lebron James and Anthony Davis dominating the way they have been, the Lakers are really looking like frontrunners to win this year's NBA Finals. 
The LakeShow again dominated as they beat the Denver Nuggets to become the 2020 Western Conference Champions. The Lakers beat the Nuggets in five games in the best-of-seven series. Games one and two were both relatively the same, with the Lakers coming out on top. Game two was probably the best game of the series, with Davis hit the game-winning three-pointer as time expired for the Lakers to go up 2-0 in the series. Although in Game three, the Nuggets were able to sneak past the Lakers to win with a score of 114-106. 
The Lakers, though, were very aware of the task at hand and were more than ready to beat the Nuggets and take the series. Jamal Murray and the Denver Nuggets were able to come back from two 3-1 deficits in the two previous rounds of the playoffs. A lot of people, including myself, discounted them, but they continued to prove the world wrong with extreme humbleness and a whole lot of swagger. Overlooking that, the Lakers took down the Nuggets in the next two games by six and 10 points respectively.
With Lebron James and Anthony Davis arguably playing the best basketball of their careers, it's clear the Los Angeles Lakers are favorites to win this year's NBA Finals. We shouldn't count out Jimmy Butler and the Miami Heat yet, but the Lakers are looking really hungry.
Leave a Comment