College in quarantine: How former Spring Valley students adapted
When Laura Solsona heard that her senior year would be cut short by a pandemic, she naturally had questions about what her first year as a college student would look like. College was supposed to be her time to become more independent. But with the quarantine, the former Spring Valley student found it difficult to want to leave home after being mandatorily cooped up in it for five months.
While she wishes she had more opportunities to connect with her teachers and classmates, she appreciates UNLV's efforts to give students a "normal" college experience. And after a month of online college, Solsona feels that this was her "best case scenario." 
"I can't say that coronavirus really affected my decision [to go to UNLV], but it really made me thankful for it," Solsona said. "I saw when a lot of the people I went to school with started to pack up and move to Reno, and that would be personally so terrifying for me. … You've heard of the term 'jump into the deep end.' I need to slowly walk from the shallow side until I get comfortable. … I wasn't ready to completely change my life, so I'm glad it wasn't even an option."
Solsona was originally worried about how socializing would work online, but she said that UNLV has made strides to keep up with clubs and Greek life. Her job at the student union allows her a chance to get to know the campus better, and she said that's where she gets most of her "social points."
"College is about making connections and everything, and I was really scared that with corona, I wasn't going to be able to build any relationships with new people," Solsona said. "I really want to build those connections. I know it's the most important part." 
SV graduate Andres Carrasco had similar concerns about socializing. In high school, Carrasco was an International Baccalaureate student –– the credits from which allowed him to start UNLV as a sophomore instead of a freshman –– and he made it a goal to be involved in as many clubs as possible. For him, the switch online granted him more time for himself. 
"It actually helped me to not get so involved, which probably has helped me balance a little bit more," Carrasco said. "Having everything at home, it allows me to really plan what I want to do in the future, and with this flexibility right now, how I want to work around school and work."
Carrasco also works, and he said that his flexible schedule allows him to watch lectures on his own time instead. He can simultaneously maintain his work and school life without feeling too overwhelmed. 
"My dominant emotion when thinking of the changes is opportunity," Carrasco said. "I know a lot of people are going to say how they're mad and they're angry about the changes, but honestly –– I guess it's the optimist in me, but I feel like there's a lot more opportunity with things going online. … I don't think the adjustments … [have been] that bad because virtually, I can be in many places at once, and it has a sense of convenience and flexibility."
While they both feel safe when on campus –– Carrasco even attends one of his classes in person –– they each recognize that the campus is only as safe as the students make it. Solsona is especially critical of the college campuses that are completely open, and she urges socially starved students to keep their parties intimate and at home. 
"I know there are some parties that are like, 'Oh, the first to get corona wins,'" Solsona said. "Things like that legitimately make me embarrassed to be a part of this generation. … There's fraternities … I know fraternities aren't exactly known for being respectful, so I hope that doesn't go too crazy. But even though a lot of things have changed, the spirit doesn't change. … People just find a way to adapt." 
Freshman and former SV student Jessica Cabrera said she remains a bit more cautious when it comes to campus life. While she wishes she could have a more traditional college experience, she said she's not willing to risk her life for one. 
"Some of my friends have all in-person classes, but I don't want to risk getting COVID because some of the students at UNLV aren't cautious," Cabrera said. "Some of the people I know go out to multiple locations to hang out and increase their exposure. There have been a couple of coronavirus cases at UNLV, but it hasn't deterred some of my acquaintances." 
One issue they all agreed on, however, was the financial state of UNLV. Carrasco and Cabrera both know people whose funds were affected. Cabrera even had 141 people ahead of her when she tried calling the office. Solsona said that she's not even able to access her scholarships at all due to the backup from banks being closed. 
"Even though the social and the educational side of [UNLV] is going kind of great, the money side is not –– not at all," Solsona said. "The realization that you have to suddenly pay to be taught is kind of awful, and it was kind of really shocking to me. … How are we supposed to pay for stuff if they're not accepting our scholarships? … That is probably the worst part."
They also feel that tuitions should be lowered due to the abbreviated learning environment. However, Carrasco said that some of his professors are still making him buy additional outside resources just to complete his homework, which is 8% of his grade.
"I've heard a lot of people in my group being like, 'Oh, I really don't want to buy it,'" Carrasco said. "'I really can't afford that right now. I don't know what to do. It's just for homework. I don't understand why we have to pay for another website when we've already got books and paid our tuition.' … It's really stressful for them, and I feel really bad."
As for how time and distance have affected their perceptions of their senior year, Cabrera said that she was able to find a community in the shared lack of experiences among fellow freshmen. 
"We all [talk] about the things that we missed out on in senior year, and it's kind of like a bonding experience," Cabrera said. 
As for Carrasco, he said that he feels lucky he was able to have at least part of his senior year, and he thinks it made the class of 2020 more resilient and "adaptable." While Solsona is glad that nobody got hurt, she still wishes that it "hadn't happened to [her]." 
"It felt like I was the only person that was really taking it hard," Solsona said. "I felt like a lot of my friends were really okay or 'whatever' about the situation, but for me, it really hurt. … Like, those four years were really just –– it's like climbing 20 feet to get to a slide and then having the slide, like, disappear from under you when you get up there. It really sucks." 
All in all, they all feel hopeful for the upcoming year. Carrasco and Cabrera are using the time and space to think about their future endeavors, and they agree that they won't let the current crisis deter them. And though Solsona is still cautious about the situation, she's enjoying the distanced education.
"I know a lot of people are ready to come back to school, but I'm not ready to watch my classmates die," Solsona said. "I don't know if that's just from someone who has dealt with that before … and I'm not going to tell someone else what they're supposed to feel or how to deal with this pandemic, but … it could obviously be worse. And if this is the price to pay to be happy and safe, then I will gladly pay it."
Leave a Comment
About the Contributor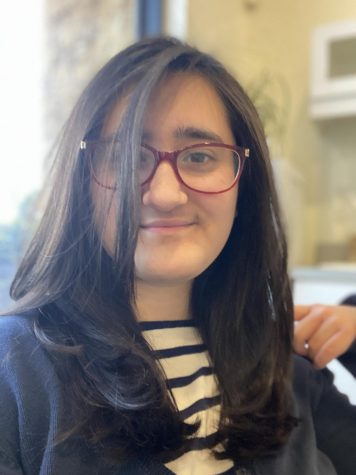 Hana Helfand, Editor-in-Chief
Hana is the Editor-in-Chief for the Grizzly Growler, and this is her fourth year working on staff. She enjoys spreading information through news features and the occasional column piece. She always has an AP stylebook on hand, and she's won numerous awards for stories she's written through the years. She aims to write professionally after she graduates, and she enjoys when people participate and engage with the paper!