The show must go on: Theatre finds way to perform while stuck at home
As a result of the coronavirus pandemic, the Spring Valley theatre department's final show of the year was canceled. However, theatre students decided to bring some joy to students and parents stuck at home. 
"Scenes From a Quarantine," a play written by Lindsay Price that's meant to be performed entirely over Zoom, marked theatre's first online performance. The show, which explored different aspects of quarantine isolation through vignettes, was a nice escape and reminder that we're all in this together. It premiered on YouTube Friday evening, where it is still available to be watched. 
In the show, Romeo and Juliet missed their wedding by a day (which might have been for the better), "Co" tried and failed to befriend her victims, pets planned our demise and the four horseman of the apocalypse took stock of their progress. Blending humorous segments with heartfelt monologues, the underlying theme was about maintaining connection through distance and shared hardships. 
According to Hillers, the show originally came to be when Coffield messaged her asking if she'd be interested in putting on the play. They then had theatre students fill out an interest form, and they casted according to who they thought would fit the role best. Rehearsals lasted for two weeks, and they recorded over Zoom and edited using Adobe software. 
Because of the casting process, the actors brought a familiarity to their characters. At times, they seemed more like friends goofing off than actors playing roles, which helped viewers relate to the stories and the people. It added an extra vulnerability, as viewers could tell how close the actors were behind the scenes. 
Another immersion tactic that came as a result of the online format was the live comments section. The actors could interact with family members, viewers and teachers, as they all watched the show together. Jokes were exchanged, praises were shouted and friends were able to celebrate each others' accomplishments. It was in the same vein as watching a show on Netflix Party, except we were watching with the actors themselves. 
Although, the performance wasn't without technical difficulties, as the actors had different camera and microphone qualities. The images were fuzzy, the video sometimes lagged and the audio quality was muffled and hard to hear. That being said, the quality almost added to the charm, and the format lended itself to fun gags, such as when Ms. Covid "died" by shrinking out of frame. 
And while the virtual show had its perks, such as rewatchability, interactivity and personality, it did lack the extra human element that live shows bring. Some scenes meandered due to the difficulty of timing video recordings, and soliloquies missed their audience, making them seem less like passionate expressions of the heart and more like actors talking to their reflections. For these reasons, Hillers, who is interested in directing future shows, said that she wants to push for the ability to have a live performance next year, though virtual performances remain a "viable option" in the event of more after-school event cancellations. 
All in all, the show was a refreshing display of resilience in dire circumstances. While it's still a shame that seniors didn't get proper closure, the performance acts as a nice send off and time capsule that can be used to remind us of our days of self isolation for years to come. 
Leave a Comment
About the Contributor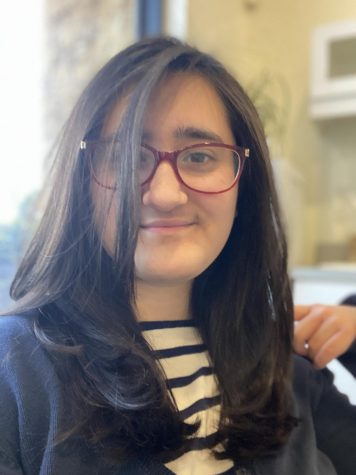 Hana Helfand, Editor-in-Chief
Hana is the Editor-in-Chief for the Grizzly Growler, and this is her fourth year working on staff. She enjoys spreading information through news features and the occasional column piece. She always has an AP stylebook on hand, and she's won numerous awards for stories she's written through the years. She aims to write professionally after she graduates, and she enjoys when people participate and engage with the paper!