Swim and Dive plunges into the new season
The Spring Valley Swim and Dive team plunges into the 2020 spring season, with improved training, stronger conditioning and a new set of swimmers. The team carries high hopes and  for the upcoming season with all the challenges and victories waiting for them. 
Changes implemented to the season, such as a new strength and conditioning program and a new practice location, set the team for a stronger start.
 "We're hoping to have a bigger team, everyone is very interested and very excited for this season, and I want everyone to do their best," Swimming Coach and Advisor, Jean Rees said. 
The strength and conditioning program, led by a former Spring Valley student and swimmer, offers training for new and returning swimmers, to build the strength they need for the season. According to Rees, the former student, now currently attends college in coaching for strength and conditioning. 
"[The training is] the same strength and conditioning as our Cross Country team, and it was a really good way for the kids to bond and get to know each other," Coach Rees said. 
This year, locations for swim practice and tryouts have also changed. Normally, and the years prior, the swim and dive team went to Desert Breeze Community Center, but has now transferred to Aquatic Springs Pool. 
Returners and incoming swimmers are excited to begin the season, focusing on ways to improve their experience since last year. 
"I am most excited to swim with my teammates again, to practice on getting better at swimming, to see what progress I've made, and to compete at the meets," Sophomore Ana Maria Ionescu said.
Swimming is also a way for students to step out of their comfort zone and find a new skill that brings them happiness, something the swimmers wouldn't trade for the world. 
"Swimming has given me motivation in times when I felt like quitting. It taught me to persevere even on my toughest days," Sophomore, Summer Everest said.
Leave a Comment
About the Writer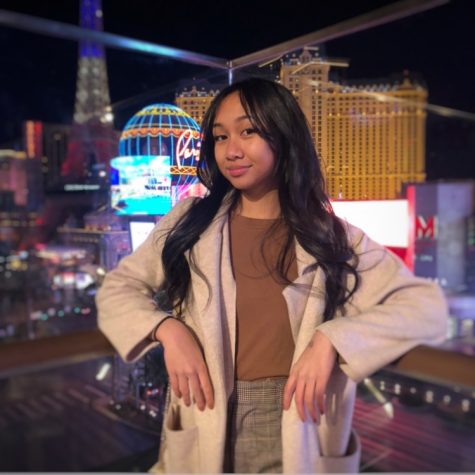 Krystka Mariano, Editor-in-Chief
Kamusta! I'm Krystka, a senior staff writer on the Grizzly Growler Newspaper, currently in my fourth year of the student journalism program. I'm a first-generation Filipino American, boba-enthusiast, and writing wild card. Need a quick recommendation for the best local food or drinks? Want to share your own fun story or just a quick chat? Let me know!