'Mario Kart Tour': Racing through the crowds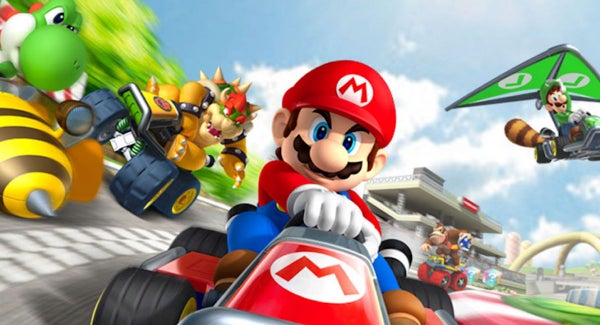 Mario Kart Tour was released Wednesday, Sept. 25, and it broke the internet figuratively and literally. Upon downloading the app, the server automatically went down because of the number of players wanting to play the game. The spin-off is a slightly less functional version of the franchise. Although this game is free, the purchases in the game itself are surprisingly high. You could buy a gold pass for $4.99 a month, a one-time purchase of the New York Set for $19.99, and rubies, which can cost as much as $69.95 for 135 rubies. The "Gold Pass" includes "Gold Gifts" and "Gold Badges" from challenges and the advanced 200cc option for racing. 
The question remains: Is it worth it? 
There is no denying that the mobile version of the game has a large following, but this is a major downgrade from Mario Kart 8 Deluxe. The console version will always be better because when a certain game is played through mobile, the nostalgic factor fades and mobile applications reach more people which erases the exclusivity of the game. Nintendo's past reputation with their mobile games does not speak for itself. Nintendo is trying its best to milk money from the players by putting purchasing options before it ends up like the other excuse for a mobile game, Super Mario Run, which tried its best to top Temple Run in 2016. 
Although Mario Kart Tour itself is relatively simple — swipe right and left, drift, throw banana peels and red shells, what really hooks the audience is what's under those pipes. Is it the exclusive Pauline? Bowser? Or Metal Mario? Players try their best to gain rubies by completing challenges and finishing cups. The special character and tier rankings are changed each week. Score high on the designated cup, soar high through the ranking tiers, and get more prizes and rubies to get more characters. Another astonishing feature of the game is the ranking itself. Your inner competitiveness will come out as you try to surpass players from all over the world, and you can even compete against your friends by exchanging 12-digit ID numbers and seeing who ranks higher at the end of each week. The awaited Multiplayer is soon to come with no suspected release date. 
Mario Kart Tour might not have reached the high expectations of excited players, but it can only go up from there. The daily shop updates, weekly tour schedules and the highly awaited "Multiplayer" will keep players on the edge of their seats trying to beat their opponents. An update is highly demanded because of the current graphics, lagging, and bugs that all need to be fixed. This game is straight-forward, addicting, competitive and fun –– which checks all the boxes for a successful mobile game. 
Leave a Comment