Teachers continue protests, working contract hours only
Teachers continued protesting Tuesday morning in the Spring Valley parking lot, which they plan to continue through Friday. More than 300 students and teachers showed up in red clothing with signs to exhibit their support for educators amid recent budget concerns. 
In 2016, teachers were promised a $5,300 raise in exchange for extra training that often included master's degrees or hundreds of hours of professional development. To date, teachers haven't received compensation for the extra work, causing outrage amongst those who are still working without a contract three weeks into the school year.
"It's not fair that these teachers work hard to earn these certain degrees for education, and they put in so much work for us as students," senior Andres Carrasco said. "Their contracts aren't being honored; they're not being honored as people."
Students and teachers chanted, "Pay our teachers, keep your promise," while walking  laps around the front side of the school. The protest took place from 6:30 a.m. until 6:55, the time at which teachers start getting paid, according to their contract. 
"I've been working here for 14 years," Spring Valley teacher Amy Murray said. "I'm one of the teachers that's gotten caught up in not getting a raise this year, but I'm out here for all the teachers that are younger than me, with less seniority, that make less money than me, that need to feed their families, that are going to be here for a long time, and they deserve their raises for a long time coming."
Some teachers spent around 700 hours completing extra training. Diane Hardy, a Spanish teacher at Spring Valley, said that she felt cheated out of her time. 
"I find it to be an ethical process of the school board to promise teachers an opportunity to earn a raise, they earn the raise, and then not get it," Spring Valley teacher Heather Allen said. 
Teachers have also expressed concern for the way the issue is being addressed. Spring Valley teacher Harold Nichols stated his displeasure for how members of the board acted when teachers spoke during meetings, allegedly looking at their phones. 
"I'm one of the teachers who stands to lose," Allen said. "Not only that, but our whole system that we have in place for the way teachers earn raises and improve their practice is going to lose. … So I really hope that this happens … We need an opportunity to earn more money and process our practice."
Later Monday afternoon, a call was sent by Superintendent Jesus Jara to all district parents, which addressed the possibility of a strike; the call contained his contingency plan to keep students and teachers safe.
"I think that teachers need to stand together, that students need to stand with us, and I'm overwhelmed with the support today, and we need to stand in solidarity together and make our voices heard, and if it means that I have to strike and do something illegal, I'll go down doing something that I believe in," Murray said. 
Isabel Hillers and Cody Johnson contributed to this story. 
Leave a Comment
About the Contributor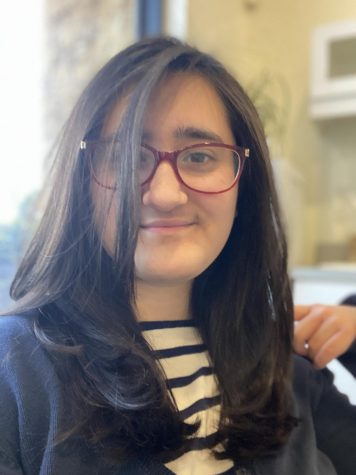 Hana Helfand, Editor-in-Chief
Hana is the Editor-in-Chief for the Grizzly Growler, and this is her fourth year working on staff. She enjoys spreading information through news features and the occasional column piece. She always has an AP stylebook on hand, and she's won numerous awards for stories she's written through the years. She aims to write professionally after she graduates, and she enjoys when people participate and engage with the paper!