The weigh to victory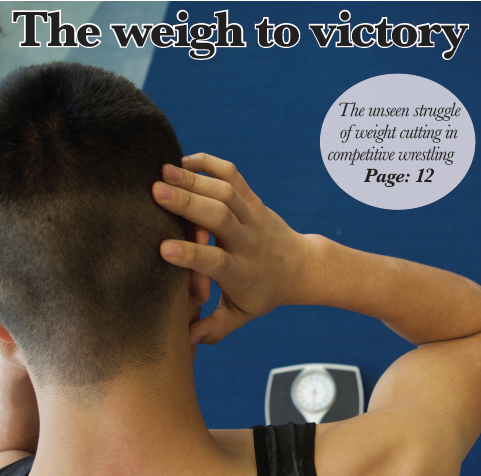 Every year, millions of chicken wings are consumed in the month of February — mostly during Super Bowl parties. But for a day centered around food, the Super Bowl was almost nothing but a watch party for wrestler Kyle Taijeron.
The four-year wrestler and varsity competitor knew that if he made the state tournament, he would spend the Super Bowl just like he did on Thanksgiving: hungry.
"If I make my goal, and I'm competing for a title, then I can't eat, so I can maintain my weight class," Taijeron said.
The feeling is a familiar one for Taijeron, who said most holidays fall during the wrestling season, so watching family and friends eat has become typical.
"It's what we have to do as a wrestler to compete, is resist the urges," Taijeron said. "Seeing everyone eat and drink on that day, while I starve and dehydrate myself, is all about being mentally tough."
Competitive wrestling has strict weight classes in place to prevent heavier athletes from matching up against those who weigh less. Wrestlers cut weight in order to gain a competitive advantage by wrestling in a lower weight class, often by not eating or drinking in the days and weeks prior to a weigh-in.
Even though coaches say they don't condone unhealthy practices, many players are still starving themselves in an effort to win.
"Anyone that spits in a cup and starves themselves are knuckleheads," Spring Valley wrestling coach Fred Meyer said.
Athletics officials agree that, while weight-cutting can be beneficial, it needs to be done the right way.
"If cutting weight is done correctly, there's nothing wrong with it, but people like to wait to the last minute, and that's where it becomes tough," Athletic Director Billy Hemberger said. "But this is what makes wrestling one of the most mentally and physically toughest sports."
Officiating organizations agreed that, while the practices are unhealthy, there is little they can do about players' pre-match preparation.
Some wrestlers also admitted to running in layers of heavy clothing, including plastic wraps and trash-bags, in order to retain body heat and sweat more water weight. These activities are unsafe and illegal, and they're punishable by disqualification, according to the National Federal of High School Associations, which is affiliated with the Nevada Interscholastic Activities Association. NIAA has no rule stating that using a sauna suit or plastic-wrapping is illegal off-site; it can only be punished if seen directly by an official.
"There is no way to regulate what [wrestlers] are doing off-site," said Dave Nevin, the NIAA director of weight management. "I'm sure it still happens, but there is no way of knowing unless seen by an official. If it is seen on site, the wrestler would be disqualified," Nevin said.
Wrestlers have a certain date and time to make weight; if they don't, the athlete must participate in the heavier class.
Wrestlers are allowed to cut 1.5 lbs. per week from their initial weigh-in at the beginning of the season. If a wrestler drops below what they are allowed to cut, they must wrestle at their originally determined weight class, according to Nevin.
Some wrestlers even go to drastic measures, spitting in a cup to eliminate excess water weight before their weigh-in.
"Even drinking water the day before you weigh in is stressful," varsity wrestler Daniel Hristov said. "I am constantly checking my weight and trying to figure out how I am going to make my weight class. … If you don't make weight, it's more than just not being able to compete and letting my team down; it's the hard work I did do that wasn't enough."
Dieting is common amongst athletes to either bulk up or lose weight, but many wrestlers admitted to starving themselves in order to make a lower weight class on weigh-in day.
"I think about food while weighing in sometimes," Hristov said. "The worst thing is not eating on Thanksgiving. I watch my family enjoy their food, but in like October, we do a friendsgiving with the wrestling team where we eat a lot of food before season."
According to Hristov, before and after matches, wrestlers often scarf down food and gain back all the weight they lost in order to not wrestle on an empty stomach. Before wrestlers' next weigh-in, they eat again, forcing themselves to restart the weight-cutting process.
"Before wrestling season, I walked around at about 150 lbs. I have to weigh in at 132 lbs.," Hristov said.
According to Marshfield Clinic, which focuses on healthy weight loss, these methods can cause serious dehydration, heat exhaustion and heat stroke. They may also result in poor mental and physical performance, unconsciousness and even death, if taken to extreme measures.
   Prior to the season, wrestlers have to submit a urination test for hydration levels and supplements, and they have to submit their current body fat percentage. But with these tests, wrestlers still are at risk. University of Michigan wrestler Jeff Reese died due to kidney failure, after he passed his urination test in 1997.
Each wrestler receives a limit of how much weight they're allowed to cut as a result of his death. In Nevada, this is determined by the NIAA. Men are not allowed below seven percent body fat, and women are not allowed below 12 percent.
"The rules have changed in the newer culture of coaches, and dropping an extreme amount of weight doesn't happen as often," Nevin said.
Essential body fat is necessary to maintain life and reproductive functions. The easiest way to gain body fat is through an unhealthy diet and consuming fat-food products.
"Weight-cutting is not a negative thing to wrestling, if it's done right," Coach Meyer said. "It creates mental toughness for athletes to give up junk food … to lose five to six lbs. to compete at their best body weight."
But many students are choosing to lose more than that, as Hristov looks to cut around 18 lbs. during wrestling season.
The winning mentality, however, can cause wrestlers to adopt unhealthy and dangerous weight-loss practices.
Cutting weight is not just practiced at the high-school level, as it is also a part of college wrestling, Olympic wrestling, UFC and professional boxing.
The Grizzly Growler reached out to Stanford, Penn State and UNLV college wrestling teams, but had no response by deadline.
In recent years, most controversy in youth sports has been related to injuries. The safety precautions and rules placed to help prevent injuries from altering athletes' lives haven't prevented everything.
"I eat literally nothing close to the day before weigh-in," varsity wrestler Eutiquio Gomez said. "Prior to that, I consume small portions of tuna only."
When athletes perform on an empty stomach, their performce levels don't match those of athletes on a well-balanced diet, and the evidence is shown in class and on the mat.
"Weight cutting has made me extremely tired and grouchy," Gomez said. "When I first started, concentration at practice was harder, but I've adapted to lack of nutrition and the stress that come with it."
Gomez is in his third year of wrestling for Spring Valley, and has had to cut and maintain his weight every season.
Yearbook and English teacher Rebecca Krshul said she has taught many wrestlers over the years and has seen how their fatigue has affected their work.
"Wrestlers have told me that their efforts to lose weight have made them extremely sleepy and unable to concentrate," Krshul said.
However, it is possible for wrestlers to cut weight safely. Staying healthy and performing well should be a top priority for wrestlers or any athletes trying to lose weight, according to the Children's Hospital of Colorado, which specializes in sports medicine research.
Michael Canada, a fourth year wrestler, cut his weight down to 126 lbs. last season and is bulking up and wrestling at 145 lbs. this season, because the team didn't have a better wrestler to compete at this weight class.
"Coach Meyer builds my mental toughness in many ways," Canada said. "He motivates me to win. I just want to win."
Leave a Comment