Flying to the top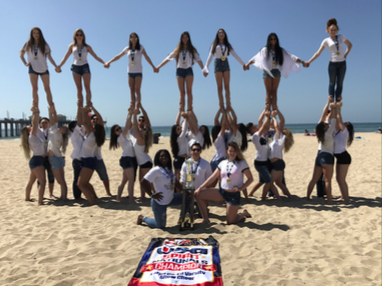 The Varsity Grizzly Cheer Team took first place in the Large Coed Advanced division at USA nationals in Anaheim last weekend, where the team took part in a two-day competition and performed their routine consisting of advanced tumbling, stunts, and jumps. This is the first time the team has taken first in the competition.
"All of our hard work is paying off and it feels amazing that we are finally being recognized,"  said flyer Kaitlyn Lucas. "All of the tough practices are definitely worth seeing how proud our coaches are and now being able to say I'm a national champion."
The team deserved their title after a year of hard work and dedication according to the team's coaches.
"Some think that you become great on the big stage under the bright lights, but that shine only reveals all the work you did in the dark," said Coach Josh Balelo.
At the end of the year, the team will graduate five seniors. In upcoming tryouts, coaches said their expectations will be higher than ever, to fill the spots of their award winning athletes.
Leave a Comment