Gaming Club unlocks new achievement: updates consoles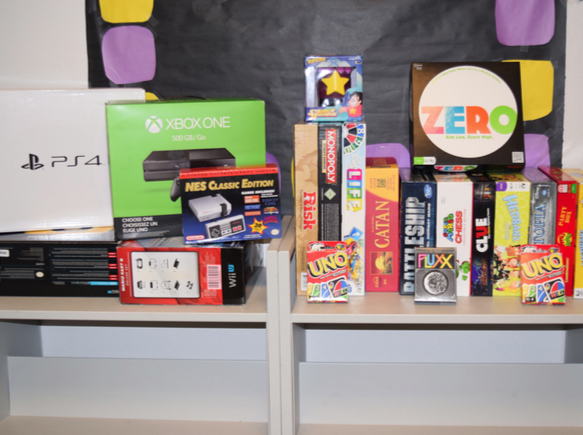 New consoles. Upcoming flat screen TV's. Intense tournaments between gamers. Fun, exciting Friday afternoons.
Gaming club has been around for years at Spring Valley, but every year, it has something new to offer. Annually, the club experiences rapid growth, and with new members, the club continues to upgrade its equipment.
This year alone, Gaming club invested $7,492 alone in fundraising in order to raise more than $13,000, which has been spent on new consoles including  the PS4, XBOX 1, NES system, new board games and flat screens.
"We are better now than we were before. It's amazing to watch our progress and see how it's creating a nurturing community," said club Historian Angelina Daniels.
The club continues to fundraise, selling a variety of snacks and beverages during nutrition break. This allows them to modernize their equipment.
"Everything I see right now is pretty much golden. I look forward to bringing more stuff and add more equipment," said Secretary Joe Vasquez.
Gaming club stocks a variety of games including Super Smash Bros, Naruto Shippuden, NBA2k16, and Super Dungeon Bros. The board games include Battleship, Mancala, and Catan.
Club officers are implementing additional security now that they have newer and more expensive equipment. To enter, students must check in their backpacks at the door to prevent items from going missing. The officers keep an inventory list of all games and consoles that is checked weekly to prevent theft.
"We want to keep growing, because right now we have about 100 people coming in," said Treasurer Alekander Visic. "There's always a new face."
With the year coming to an end, the club must pick new team officers to lead next year. With President Ashlend Laparra and Vice President Lorena Beltran graduating this year, Joe Vasquez is likely to take the reigns.
"The presidency is leaning towards me. Mainly because what I'm planning to do is to show more determination," said Vasquez.
Members of gaming club have grown together throughout the year, working to raise money for more systems, competing against each other, and just having a good time after school once a week.
"I can see these games cut across all boundaries. Racial, economic and social, these games are all immune," said advisor and librarian Darcy Bechtel.
Gaming club isn't like every other club that involves worldly issues or culture or discussion. It's a place where students can feel welcome and have a stress-free environment, even if it's just for a couple hours, Bechtel said.
"We all know each other," said Vasquez. "We all have a unity. It's like a family to us."
Leave a Comment