Semester, sports, to start earlier next school year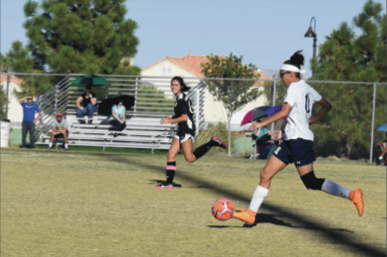 Students and teachers will begin classes two weeks earlier than usual for the 2017-18 school year due to a new calendar passed by the Clark County School District School Board (CCSD). Next year, school will start on August 14, 2017 and will finish on May 22, 2018. 
CCSD made the change to an early calendar to give students a stress-free winter break and create similar calendar as college students. Now, the first semester will be done before students go on break for two weeks.
"I think this will help our students grades because the week before winter break will no longer be a wasted week," said Principal Tam Larnerd. "Students will know it's exams and they have to buckle down for that last week before break and can get a fresh start when they get back."
Semester exams will take place the final week before winter break and second semester will begin when they return on January 8.
"It [the new schedule] will allow students to enjoy their break and family more because they know first semester is over and they can get a fresh start when they resume," said English and Yearbook teacher Rebecca Krshul.
In the past, students said they spent a lot of their time off studying and stressing about exams. 
"I feel like it's hard to come off winter break and be able to flip a switch back into school mode," said junior Andre Pitts. "When I'm on break sometimes I think and stress about my first semester grades.
With the school year starting earlier, many other things will be impacted beyond exams. Fall sports teams will need to host tryouts earlier in mid July, which means sports such as soccer, cross-country, football, and tennis will be outside in hotter temperatures. While some students expressed concern about the heat, many said they are used to the hotter temperatures.
"We go through workouts all summer long that won't be too different," said Head Football Coach Marcus Teal. "My only real concern is the athletes will have school work to stay focused on as well as football earlier than normal."
Athletic Director Billy Hemberger agreed that starting two weeks earlier is more beneficial for students.
"I don't believe this will affect our athletes to much, if anything it will help them get off the couch two weeks sooner in the summer and back to work," said Athletic Director Billy Hemberger. "If the athletes want to play this sport and are truly motivated toward it they will find out when tryouts are and be able to stay focused."
Although the hotter temperatures require CCSD to be spend approximately $700,000 more on air conditioning, CCSD will save money due to the calendar change.
In addition to the high school switch, 15 schools on a year-round calendar will convert back to the nine month calendar which saves the district approximately $2 million in operating costs, according to  CCSD communications assistant Guillermo Lifoifoi.
For the second year, students will no longer have staff development days. Instead students will have a "Fall Break" the week of Thanksgiving. In the 2017 school year students and teachers received election day off and in 2018 students and teachers now have an extended President's Day Holiday.
"With the school year starting earlier and cutting into my summer is a bummer," said Junior Phillip Morean. "But I'm ready to graduate and I think this will help my grades especially with our little breaks and exams before winter break."
Leave a Comment