Former Grizzlies reach the major leagues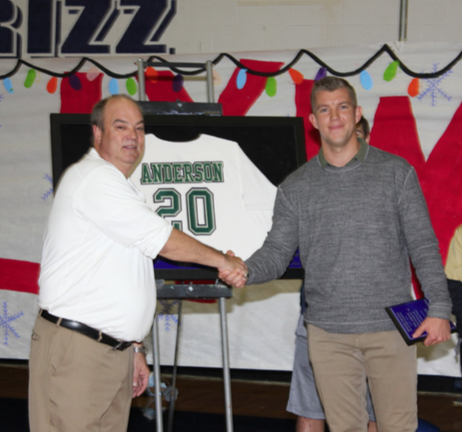 Tyler Anderson and Aaron Blair, two former aces for the Grizzlies, have toed up the rubber at every level. The two former baseball players started playing baseball at Spring Valley and pitched on the mound for the Grizzlies with just a handful of family and friends in attendance. Now, as Major League Baseball (MLB) players, they pitch in the limelight of millions of nameless people watching live from their own television, critiquing and motivating them more than they could have ever imagined.
"Seeing Aaron Blair and Tyler Anderson back at Spring Valley was a really great experience," said Varsity Baseball player Jack Sellinger. "Knowing that they went here and played on the same field that I do gives me a very humbling feeling. I hope that one day I can achieve all my goals such as they have."
The odds of becoming a pro are extremely rare, and having two athletes from the same team is even rarer.
On December 16, 2016 both players attended the winter assembly where their jersey numbers were retired in honor of their successes. Greg Stack presented Blair and Anderson with their jerseys, and the acknowledgement that no Spring Valley baseball player will ever wear the numbers that belong to them. Former coaches Mike Gomez and Paul Bassett also spoke of their successes.
"It has been an honor to have two players from Spring Valley High School make it to the major leagues," said Bassett. "Both players were at the top of their class, and both are young men who have gotten everything they deserve."
    In 2008, Blair's sophomore year, he threw a no-hitter, the highlight of his season at Spring Valley. A year later, as a junior, Blair went 7-0 and was named a Nevada 1st team All-state player. In his senior year he led all of Nevada in strikeouts with an outstanding 91 in only 64 innings. At the plate Blair batted a .449 with 7 homeruns and 43 RBI's also in his senior year.
    "I was always excited to play against Bishop Gorman, my competitive edge wanted that game every time," said Blair recalling his games as a Grizzly. "I will never forget walking through the gates everyday and the bonds I made."
In June 2010, the Houston Astros selected him in the 21st round but he didn't sign and attended Marshall University where he continued to play baseball at the college level.
At Marshall, Blair was named to the Conference-USA All-Freshman team in 2011, and was a one of the teams better starters in 2012. In Blair's junior year he was named to the Conference-USA  All Conference first team, and was added to the Golden Spike award watch list after striking out 84 batters in 82 innings.
     While most believe that playing the same game could become repetitive, Blair thinks otherwise.
"It's different every time I pitch," said Blair of the experience of pitching in the major  leagues. "Everyone critiquing your every move is nerve racking but every time I throw is special."
In the 2013 MLB draft Aaron Blair was selected with the 36th pick to the Arizona Diamondbacks and signed with a $1.4 million signing bonus. With Blair being selected, he became the second player out of the Grizzly baseball program to get drafted and the highest drafted player in Marshall history. Blair played in the minor leagues for three seasons before being traded in a 5-player deal to the Braves in the 2015 off season. During Spring Training, 2016, Blair got an invite and then was called to make his Major League debut in May of 2016. Blair pitched in his first game on May 28, 2016 against the Miami Marlins and went 5.2 innings with 5 strikeouts and 2 earned runs.
"It was a crazy week," said Blair of his debut. "Although it's a dream come true I've got a lot of work to get done."
With the 20th pick of the 2011 MLB draft the Colorado Rockies selected the left handed, 22 year old pitcher, Tyler Anderson. When he signed, he was awarded with a $1.4 million signing bonus. After five years of hard work and development Anderson made his debut against the San Diego Padres. He went 6.1 innings, giving up only one run and striking out six, earning his first win.
"Its great you know, you dream of it your whole life but it's just a step along the way, you always want to keep going and keep getting better" said Anderson of his first outing.
He stated that the best thing about going pro was being able to continue playing  baseball.
Before his professional days, Anderson attended the University of Oregon where he pitched 292.1 innings, 285 strikeouts, 117 earned runs over a course of the three seasons. Anderson has won an abundance amount of awards during his time in college and one of the most remarkable one was becoming the first Oregon Duck named to the Pac-10 All Conference Team in 39 years.
Anderson remembers his days as a Grizzly as some of his favorites. Anderson said he made many lifetime memories and friendships. One of the most memorable moments of his high school career was during a playoff game against the Gorman Gaels. According to Anderson, the whole team dyed their hair green and blue to show school spirit, and one of his former teammates climbed up the baseball mound to flaunt his hair color to the fans. He stated that the whole team would agree that this was one of their most memorable games.
"It was the weirdest thing ever but we all were dying laughing," reminisced Anderson.
Anderson believed that when he made it to college baseball he had an advantage over other players because over the years his coach taught him how to fully understand the game and how it works.
"Coach Gomez was really good at understanding the game of baseball, and breaking it down to situational baseball," said Anderson.
He believes that in order to succeed one must not take any shortcuts. If one loves the sport enough, they'll follow through with all of the hardships that come along with it.
"The more you learn about the game and able to slow it down, the easier things become,"stated Anderson.
Leave a Comment