Yoshi Burrito brings Mexican, Japanese fusion to SV area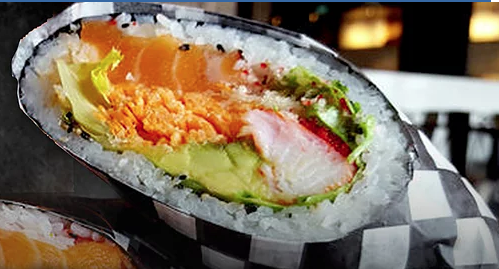 In 2008, San Francisco restaurant owner Peter Yen created a hybrid between the sushi and the burrito — the sushi burrito, mixing both Asian and Latin flavors into  one rolled delicacy. After this, the sushi burrito quickly blew up in popularity, spreading first around San Francisco, and today Las Vegas. Restaurants have popped up around town that specifically serve this trendy food, none more recent than Yoshi Burrito, located on Flamingo and Grand Canyon.
Although the concept and its origins seem like it couldn't get any crazier, owners James Clark and Harland Hoel have advanced the concept together in their restaurant, further improving the already popular fusion.
The store features the regular sushi burrito menu items found in most sushi burrito shops and more. A distinct feature of Yoshi Burrito's menu is its bowl option. For an additional $0.35, customers can turn their select burrito into a bowl, another way to give them more variety in their choices.
Along with making their burrito into a bowl, customers can make their own custom burrito or bowl as well. This gives Yoshi a distinct feeling like that of Chipotle or Subway, allowing customers to add variety to their meals.
If customers don't feel like making their own bowl or burrito and want to try out the chef's' personal items, Yoshi still has many different options. With prices of all items ranging from $8 to $12, and with ingredients like seafood to beef and chicken, Asian to Latin flavors, even the preset items give customers many options.
With so many choices, customers would naturally feel overwhelmed. This is where the owners can help.
"Our most popular roll, undoubtedly is the Yoshi, our signature," James explained. "It's ironic in a lot of ways, since Yoshi in Japanese means "best" and that is not just our most popular roll, but our best one too." The yoshi is undoubtedly our favorite too, with it having many fresh ingredients spanning across both hispanic and Asian flavor palettes.
Other great rolls include the miyagi, a burrito with eel and soft shell crab as its main meats; the ahi poke bowl, containing a sweet poke sauce and salmon as its main meat, along with many fresh vegetables and flavors. The samurai, which has soft shell crab as its main meat along with the gracie which contains salmon and had a tender, fresh taste. James' history with the UFC has also not only influenced the food, but its names as well.
"The Gracie roll is named after the Gracie family that raised me and taught me how to be a UFC fighter" James said.
Overall, Yoshi gives many different choices, each with fresh ingredients and a wide arrange of flavors, giving each and every option you choose a different feel from the other. The concept of the sushi burrito was already something twisted-something that turned out to be good. But Yoshi takes that next step by implementing the pick and choose aspect of Subway and Chipotle while delivering with high quality ingredients, giving customers the best food possible.
Along with the food, Yoshi's atmosphere is relaxed. The actual restaurant is very simple, having a black and white color palette while having wood logs along the walls. Next to the entrance is a poster of a samurai, drawn like an actual piece from the 1700's. The entire restaurant gives customers a balance of casualness and a professional dinner setting, something that only adds to the food.
Leave a Comment