Marching band looks for recognition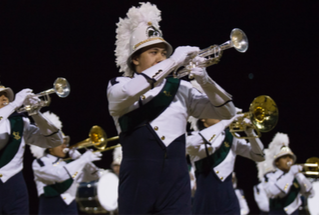 As the sun begins to rise over the Las Vegas strip and orange begins to blanket the city, cars buzz through the Spring Valley parking lot dropping off students for the day. What many may see, though think little about is the group of student nestled near the band room, well before most others make it to school.
Members of the Grizzly Regiment spend long hours practicing, playing, and representing Spring Valley well beyond the morning and night hours of most SV students.
The Grizzly Regiment participates in many events, including sports and school assemblies, but are not recognized by the school's population due to the unpopularity of marching bands in the modern school era.
Many students who participate in the marching band express that they go without recognition because it is not seen as a popular sport, nor a fun activity, according to today's standards. However, many students neglect to realize that marching band students spend a large amount of time and effort in band, on and off campus.
"Recognition gives the people involved in the program a bigger sense of pride," said band director Tyler Graves. "It makes people in the program feel good, as well as influence others to want to come and join them."
Graves, a former band student, has an understanding of students in the program's feelings and feels strongly about recognition for them around the school.
Senior Rhiannon Krause, color guard captain said that the effort that goes into her sport is not acknowledged. Krause has participated in band for seven years and expressed that people just assume they understand what color guard and band entails, usually incorrectly.
"As a group of students and staff, the marching band and color guard feel undervalued and under appreciated by everyone," said Krause.
After school hours, the band actively participates in weekly practices, sectionals, and attends state competitions. On top of that, they also go to both home and away football and basketball games, as well as participating in spirit week by performing at assemblies.
Students also have opportunities to volunteer at Lawrence Junior High School after school to help fellow band members. The band's foundation relies on hard work and practice put in each day, as well as the extra effort they put in to better improve themselves as leaders and musicians, according to the student leaders.
Senior Derick Nguyen, a drum major for the 2016-2017 school year, has been hard at work in band for seven years and has voiced his opinion that in all of his high school career, the band is lost among the other activities at school.
"I believe the school does recognize the band's existence, however I believe we are undermined when it comes to other sport teams because the lack of understanding about the amount of effort we put into our craft compared to how much we actually push ourselves when it comes to practice and our competitions," said Nguyen.
He has stated that the band spends about 11 hours on average per week on band at school, including, but not limited to, the hour practice they spend during the day and sectionals or rehearsals after school. This, however, does not include football games that can go up to three to four hours and Saturday competitions, which go onto an average 12 hours.
Senior Alvin Castro, another drum major, agreed with Derick's statement and believes that recognition for the band is much more important than meets the eye. 
"I'm really concerned about the recognition we get around the school. Since I was a freshman, the upperclassmen and I felt really detached and frustrated just because of how little recognition we got, " stated Castro.
Band is not just a physical activity that provides enjoyment for others, Castro said. He believes that band is a positive experience for the mind and body because it builds up their self-confidence. His experience has developed his pride, confidence, and built up a true sense of what family is over the years, making it an important part of his life.
Freshman Yessenia Trullijo, while agreeing that band's recognition is an important thing, also acknowledged that band was about more than recognition.
"I think it depends on the person. If there's a person in band that cares about being popular, then they'll obviously care if people like them or not, and if not, they'll probably quit," said Trullijo.
For many students, band is a high school career, and a possible future career depending on where their lives lead them. They have put forth years of hard work and dedication that many have yet to recognize, but still remain passionate despite the decline in supporters.
Director Graves encourages people to learn about band because of the unique experiences that students have during their time in the program. It is not only about music, but it is also about the work and time that those have put into it.
"I chose to dedicate my life to school band because everybody is part of the whole," Graves said. "Everyone is part of the sound, and if you sound a little better, it makes everyone better. It [band] is unique in giving everyone a voice and recognizing the work students put in makes their personal experience so much better for them as individuals."
The marching band program's season ended on November 12, where the band placed 5th in the Marching Band Open Series (MBOS) Championship's Preliminary round at Sierra Vista High School. They ended the season in high spirits, and is sending off their seniors with their first experience of going to finals, as well as giving the underclassmen the outlook for a successful marching band career.
Leave a Comment