The likelihood of becoming a professional athlete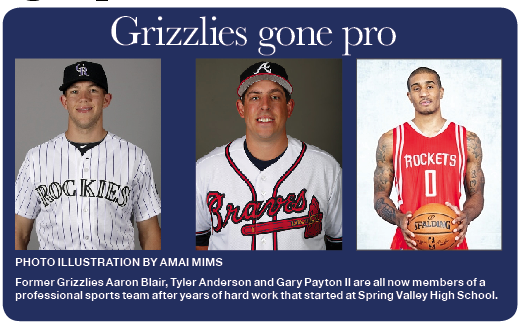 While every student athlete's ultimate goal is to become a professional, according to the National Collegiate Athletic Association, out of 8 million students currently participating in high school athletics in the United States, only 480,000 of them will compete at a college level [which is a program that helps student athletes get noticed]. The probability of becoming a professional athlete is extremely low for both high school and college athletes, but that doesn't mean it's not possible.
Three former Grizzlies Aaron Blair, Tyler Anderson, and Gary Payton II have achieved professional athlete status in baseball and basketball. While talent plays a major role, hardwork and dedication is what pays off according to the Grizzly coaches.
"Work ethic is number one, there's a reason why professional athletes are professional. It's because they don't look at it like it's just a game," said Coach Billy Hemberger.
The likelihood of going pro from college is slim. According to editor Julian Sonny in basketball, 1 in every 525 student athletes will be drafted in the NBA. In football 1 in 325 student athletes will be drafted in the NFL, and in baseball 1 in 44 student athletes will be drafted in the MLB.
According to the NCAA, baseball players have the highest probability of going pro, while others have a less than 2 percent chance. Former Grizzlies Aaron Blair and Tyler Anderson who are pitchers for the Atlanta Braves and the Colorado Rockies beat the odds and made it to pro baseball. 
"I probably wouldn't of guessed that he would make it back in those days because of how hard it is. He was very skinny freshman but a great pitcher," said Coach Oliver who coached Blair his freshman and sophomore year.   
Gary Payton II, who graduated in 2011, went pro as a point guard for the Houston Rockets.
Spring Valley teacher and former Coach Phillip McAlister, who is close with him said Payton's senior year was one he will never forget. With nine key players gone and graduated the team was expected to do poorly, until Payton stepped up to the plate contributing a double-double almost every game.
"He took the leadership role and took the guys under his wing, leading us to a very successful season," said Coach McAlister.
Although these three Grizziles  made it, this low possibility should encourage student athletes to have a backup plan said sport psychologist Darren Devaney.
"I definitely believe that student athletes should have a backup just in case something goes wrong. That doesn't mean students should give up on their athletic dreams, they just need to open their horizons and branch out," said student athlete Esite Tibebu who participates in cross country and track. 
This is when high academic performance comes into play. According to Coach Oliver and Coach Hemberger. Student athletes should always have school as their number one priority.
"It's about education first, basketball second and if they are lucky enough to get an opportunity then go ahead and take it," said Coach Hemberger.
Leave a Comment