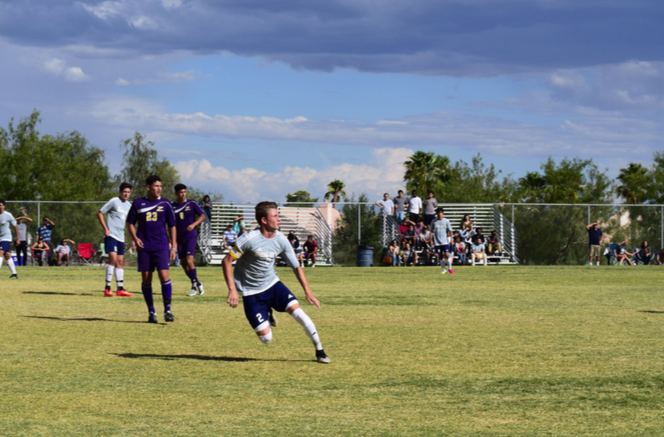 The men's soccer team is fighting to reach playoffs once again with the transition from D1A to the top division (now known as 4A) playing a big role in the team's fate. Last year, they held a record of 8-5-1 making it to the second round of playoffs, the furthest in school history.
In the first round, they met the number one seed Chaparral High School and sent the Cowboys home with a score of 2-0. Advancing to the second round, the boys were sent home after taking a devastating loss to current State Champions Clark High School. Who the team previously beat in regular season 2-0.
"We moved up a division, so competition is a little stiffer."  said Varsity Coach Jay Tippett. "It depends on the opponent, we may change the shape that we play or the formation that we use. We may even have to employ some different tactics based on the personnel the other team has."
Story continues below advertisement
The team is now in Division 4A and determined to get back to playoffs. Senior Captains Ethan Orme, Blake Pride-Zorn, and David Van Hoose have high expectations for the remainder of the season.
"I think we have a good shot at making it to playoffs this year," said Varsity Midfielder Jose Lopez, "We just have to give it our all every game."
Facing opponents in the Southwest League,  such as Durango, Bishop Gorman, Desert Oasis, Clark, Bonanza, and Sierra Vista, the team is stepping up their game for the remainder of the season. Clark, the current state champions, and strong playoff competitor Durango are sure to give the team an incentive to make it to playoffs.
Students are also very excited to see what the future holds for the team.
"The team looks really strong this year" said soccer fan Andre Pitts. "I think they have what it takes to make it to playoffs again."
"Our ultimate goal for the season is to make the playoffs," said Tippett. "Which means being one of the top four seeded teams in our division."